A Reveal News report dug into a 2016 settlement to uncover evidence of Facebook taking advantage of children. For years, the company employed dubious tactics designed to infiltrate parents' pocketbooks through their own kids' addiction to online games.
---
A Reveal News investigation suggests that Facebook knowingly tricked children into spending their parents' money on the social media platform, later refusing to process or grant refunds for affected families.
In response, two U.S. senators, child health advocates and privacy watchdogs have sent letters to Facebook CEO Mark Zuckerberg.
"These findings point to a problematic culture of putting profits ahead of your users' financial wellbeing and raise serious concerns regarding the company's willingness to engage responsibility in its interactions with children," U.S. Senators Edward Markey and Richard Blumenthal wrote Tuesday in a joint letter to Zuckerberg.
Reveal reports that its story was based on Facebook's own internal memos. The company's private communications, which include shared strategies and employee e-mails, purportedly 'paint a troubling picture' of how the social media behemoth targeted children as it attempted to grow profits from games like Angry Birds, PetVille and Ninja Saga.
Facebook's records went public last week after Reveal from The Center for Investigative Reporting petitioned a U.S. District Court judge to unseal records related to a class action suit settled in 2016.
"These findings are alarming and raise serious concerns about whether your company and its employees knowingly harmed families," the senators told Zuckerberg.
Along with raising questions over Facebook's corporate ethics, the senators demanded that Zuckerberg respond to a series of questions by no later than February 19th. Among other things, lawmakers want to know when the CEO became aware that "children were likely unknowingly spending their parents' money while playing games."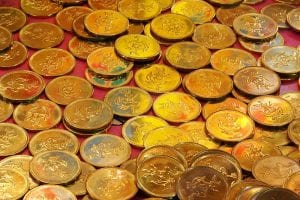 CBS recalls the case of Glynnis Bohannan, who let her 12-year old son use her credit card to play Ninja Saga.
While Bohannan thought the boy was making a one-time purchase of $19.99, the charges quickly ballooned to nearly $1,000.
What Bohannan didn't realize was that her credit card data had been stored by Facebook. As her son continued to play Ninja Saga, the game subtly prompted the boy to continue buying virtual products.
Rather than displaying a Visa logo, purchase amount or other indicator of an in-process payment, Ninja Saga only showed a stack of gold coins. When the coins would begin running out, Bohannon's son would receive a message suggesting that he restock.
All the boy had to do to spend another $19.99 was press on the pile of coins, generating a sound-effect and instant disbursement of in-game currency.
Internal e-mails requisitioned by Reveal and recounted by USA Today include worrying references to the casino industry. Employees referred to some children as "whales," a term often used to describe high-stakes gamblers.
More disturbingly than likening kids with casino patrons, Facebook purportedly conducted an analysis of refund requests on Angry Birds. They later learned that a vast majority of refund requests stemmed from what could be termed "friendly fraud." The report notes that, 'in nearly all cases, the parent […] didn't think the child would be allowed to buy anything without their password or authorization first."
The revelations prompted a coalition of internet privacy and child health advocates to request that Facebook shut down its Messenger Kids serve, geared to children under age 13.
"The documents appear to demonstrate that Facebook is willing to cause actual harm to children and families in its quest for profit," the groups wrote in a letter. "As such, Facebook is unfit to make any platform or product for children, especially one like Messenger Kids, which gives Facebook unfettered access to kids' relationships, conversations, and private moments with friends and family."
The letter was signed by Campaign for a Commercial-Free Childhood along with seven other advocacy groups.
Reveal quotes Jim Steyer, founder of Common Sense Media, as calling for better regulation and legislation to protect children online.
"We're pushing for major new legislation in California and in Congress," Steyer said. "And this is a problem for kids worldwide, not just in America."
Between 2008 and 2014, minors made in-Facebook purchases totaling more than $34 million.
Sources
Child advocates to Mark Zuckerberg: 'Shut down Facebook Messenger Kids' immediately
Emails show Facebook knew children spent big money on game apps
Facebook Didn't Draw the Line at Targeting Kids. Where Will It?
When did Zuckerberg learn about Facebook's targeting of children? Senators want to know