Even U.S. marshals say conditions at Cuyahoga County Jail are inhumane.
---
Twenty current and former inmates at Cleveland's Cuyahoga County jail are suing city officials, claiming conditions at the facility are inhumane and borderline dangerous.
According to the Associated Press, some inmates said they'd found insects in food and seen swarms of bugs in the showers. Restrooms were purportedly unusable, with many toilets broken or overflowing. And oftentimes, inmates would have to sleep on cold floors because the cells would be packed to capacity, with no room left between the bunks and beds.
About thirteen prisoners recently joined the lawsuit, filed after Cuyahoga County Executive Arnold Budish and his administration claim to be improving the jail.
The original complaint, though, was filed in December. Along with Cuyahoga County, it also names MetroHealth, the jail's medical contractor, as defendants.
But unlike many similar lawsuits, the inmates' claims have notable backing. Cleveland.com notes that their accusations largely mirror findings published in a 52-page report by the U.S. Marshals Service.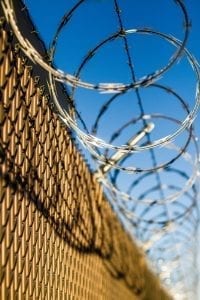 In their report, the marshals decried the "inhumane," unconstitutional conditions found throughout Cuyahoga County Jail. Along with crowding, the memo also details understaffing and inadequate medical care.
The marshals' report, writes Cleveland.com, was in response to a rash of deaths at the facility. Seven inmates had died within a period of several months, while another passed away on-site as recently as December.
What's also noteworthy about the case is that several of the newest plaintiffs were booked in Cuyahoga County this year. And even though it's been months since administrators promised reform, the inmates make it sound as if nothing has changed in the slightest.
Some say injuries or serious medical conditions were left unattended, with prisoners either ignored or told to fend for themselves. And guards allegedly mocked inmates with mental disabilities and psychological illnesses.
Recreation time is scarce, too—the amended complaint adds that cells are locked for hours each day, with the floors still crowded for lack of space.
A recent addition to the suit suggests Cuyahoga County is also running afoul of the Americans with Disabilities Act. In one instance, an inmate who required braces and a wheelchair was denied either. Consequently, they went days without being able to bathe because staff refused to escort them to a sitting shower.
"Though Cuyahoga County and MetroHealth claim they have taken steps to address several of the issues raised in the report, rampant constitutional violations persist to this day at Cuyahoga County Jail," said Sarah Gelsomino, one of several attorneys representing the inmates.
Budish, however, insists that "although we have a ways to go to achieve our goal of being a best practices jail, I'm pleased to say that we've made great strides in improving the jail." He admitted that he overcrowding is still a problem but says officials are adding beds and trying to hire more guards and nurses.
Budish also points to a $42 million, three-year contract with county hospital MetroHealth, which he believes will continue to improve the quality of care in Cuyahoga Jail.
The inmates are being represented by the Friedman & Gilbert law firm, as well as the Cleveland branch of the NAACP and Porter Wright Morris & Arthur.
Cleveland.com notes that last week, Judge Michael Nelson—the former president of the local NAACP—requested a Justice Department investigation, saying that "when you mismanage justice in the way this county has mismanaged justice, it really impacts all of us."
The Ohio Attorney General's office is conducting a separate criminal investigation, which has already led to indictments against nine people, including Cuyahoga County Jail's former director, Ken Millis, and Eric Ivey, its demoted warden.
Sources
Cuyahoga County Jail conditions as bad as ever, even as Budish administration boasts about improvements, new court filing says