Jackson Township in New Jersey is being sued by an Orthodox Jewish group over allegations that it discriminated against the Orthodox Jewish community in the county.
---
Believe it or not, discrimination continues to happen today, even in 2019. One particular type of discrimination on the rise is religious discrimination. For example, an Orthodox Jewish group recently filed a discrimination lawsuit against Jackson Township in New Jersey over allegations that the township discriminated against its Orthodox Jewish community. The suit itself was filed in U.S. District Court in New Jersey back in 2017 and is currently pending, but how exactly was the community discriminated against?
According to the suit, the township "destroyed documents relevant to a federal discrimination suit asserting that local laws are intended to discourage the growth of the township's Orthodox community," according to Agudath Israel in America, a Manhattan-based organization that advocates for the rights of Orthodox Jews. Additionally, the lawsuit alleges the township violated the "Religious Land Use and Institutionalized Persons Act, or RLUIPA, by voting to eliminate dormitories as a permitted use under local zoning rules, and by barring eruvs — markers designating areas where Orthodox Jews can perform tasks otherwise prohibited by their faith on the Sabbath."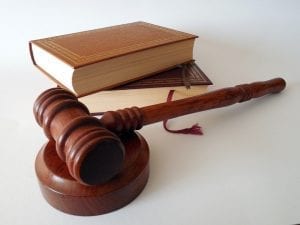 Papers filed earlier this month on April 12 urged a judge to prevent the Jackson township from destroying further documents and stated:
"The purpose of these ordinances is to target the Orthodox Jewish community, to prevent that community from being able to provide the necessary educational institutions for its youth and to discourage that community from relocating to and residing in the township…Plaintiffs have learned that the defendant has taken action to destroy documents relating to this lawsuit while this lawsuit has been pending and as recently as March 6, 2019."
It's important to note that litigation over allegations of religious freedom violations is on the rise in Ocean County, the county where the alleged incident took place. Why? Well, the Orthodox Jewish community in the area is growing. As a result, many of the beliefs and customs that the Orthodox Jewish community hold dear have begun butting up "against local laws and fueled tensions among longtime residents."
One example of these growing tensions is that last month, "Ocean Township appeared to resolve a protracted battle to keep a residential yeshiva from reopening in a residential neighborhood by purchasing the property for $2 million, only after settling a discrimination lawsuit in which the plaintiff — the school's would-be operator — was paid $750,000."
Other areas affected by the growing tensions include Orthodox communities throughout Bergen County and neighborhoods in Woodcliff Lake and Mahwah and there are other cases of alleged discrimination throughout these communities. 
What do you think? Does the Orthodox Jewish community have a case? How could the township have acted differently?
Sources:
Town facing discrimination lawsuit from Orthodox Jewish population is destroying documents, the group alleges
Agudath Israel Claims Jackson Township is "Erecting a Wall on Lakewood Border"