Country star Martina McBride, her husband John McBride, and their recording company Blackbird Studios recently came under in a lawsuit filed by a former employee. According to the former employee, Richard Hanson, the "defendants unlawfully terminated him in an act of retaliation after he reported alleged illegal activity about the company's internship program." As a result, he is seeking $1 million in damages.
What exactly happened, though? Well, according to court documents Hanson "worked for the company from about June 12, 2012 to June 6, 2017 and ran the company's unpaid internship program." During that time he claims the couple "made it a practice to assign unpaid interns job tasks that provided little or no education or training benefits," such as "cleaning the bathrooms, tearing down equipment and running personal errands for the McBride's and their family."
According to Hanson, on one occasion "Martina and her children asked the interns to do their grocery shopping" and another time John "once required two interns to visit his home in the middle of the night to see if there was an intruder." He even allegedly "gave a loaded gun to one of the interns, who didn't have any firearm safety training," according to court documents.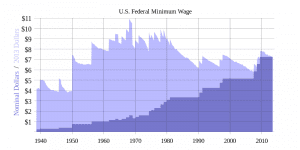 In his lawsuit, Hanson argues that the McBride's often "assigned interns these tasks to avoid having to pay employees to do them," and allegedly "failed to accommodate the interns' academic commitments by adhering to academic calendars." Whenever an intern failed to carry out a task to the McBride's satisfaction, they were often "yelled at, scolded, or chastised," according to the lawsuit. As a result of the poor treatment, it wasn't abnormal for unpaid interns to suddenly quit.
In addition to the concerns over the interns, Hanson also alleged in his lawsuit that the defendants "failed to provide assistant recording engineers with overtime pay" and that their business practices "violated the Fair Labor Standards Act (FLSA)." He argued that the unpaid interns were "entitled to minimum wages while the recording engineers were entitled to overtime pay."
Before filing the lawsuit, Hanson allegedly attempted to inform the McBride's of the FLSA violations, though the couple repeatedly refused to "correct the alleged conditions." He even went so far as to file a report with the "Department of Labor regarding the alleged business practices." Then in June 2017, he informed the McBride's general manager, Rolff Zweip about his report, a move that Hanson claims resulted in his firing.
According to the lawsuit, shortly after telling Zweip about the report, Zweip allegedly turned around and told John McBride about his complaints. An hour or so later, John called Hanson saying, "I hear you have a f–king problem and you're gonna call the Better Business Bureau or some f–king sh-t." Hanson responded by allegedly telling him he had contacted the Department of Labor, to which John said, "Well, I'm done with you. Get your sh-t and get the f-ck out of my studio."
In the lawsuit, Hanson claims he was wrongfully terminated and unlawfully retaliated against and alleges his termination "violates the Tennessee Public Protection Act (TPPA)."
When talking about his client, Hanson's attorney, Brian C. Winfrey said:
"Mr. Hanson is a man of impeccable character and integrity. It is unfortunate that the leadership of Blackbird Studios would seek payback against Mr. Hanson when it simply could have just paid its employees in accordance with the law. This type of blatant retaliation cannot go unchecked."
In response to the lawsuit, the Martina McBride issued a statement saying:
"Blackbird Studios cooperated with the Department of Labor and they found this claim was not supported by the facts. John and I have created a culture at Blackbird that is familial and supportive of everyone who walks through its doors."
Sources:
Martina McBride and Her Husband Face $1 Million Lawsuit Over Retaliation Claims
Lawsuit: Martina McBride made interns clean bathrooms
Join the Discussion