If convicted, each defendant charged with conspiracy to engage in an animal fighting venture faces up to 5 years in federal prison. Each defendant charged with conspiracy to traffic controlled substances faces up to life.
---
INDIANAPOLIS – Twenty-one individuals were charged in a federal indictment alleging trafficking of fentanyl, methamphetamine, and cocaine; money laundering; illegally possessing firearms; and dog fighting. The charges follow an extensive law enforcement operation in which 18 of the 21 individuals were arrested and federal agents seized over 40 firearms; quantities of fentanyl, methamphetamine, and cocaine; over $55,000 in cash; and approximately 90 dogs.  The following lists the individuals indicted and the charges they face: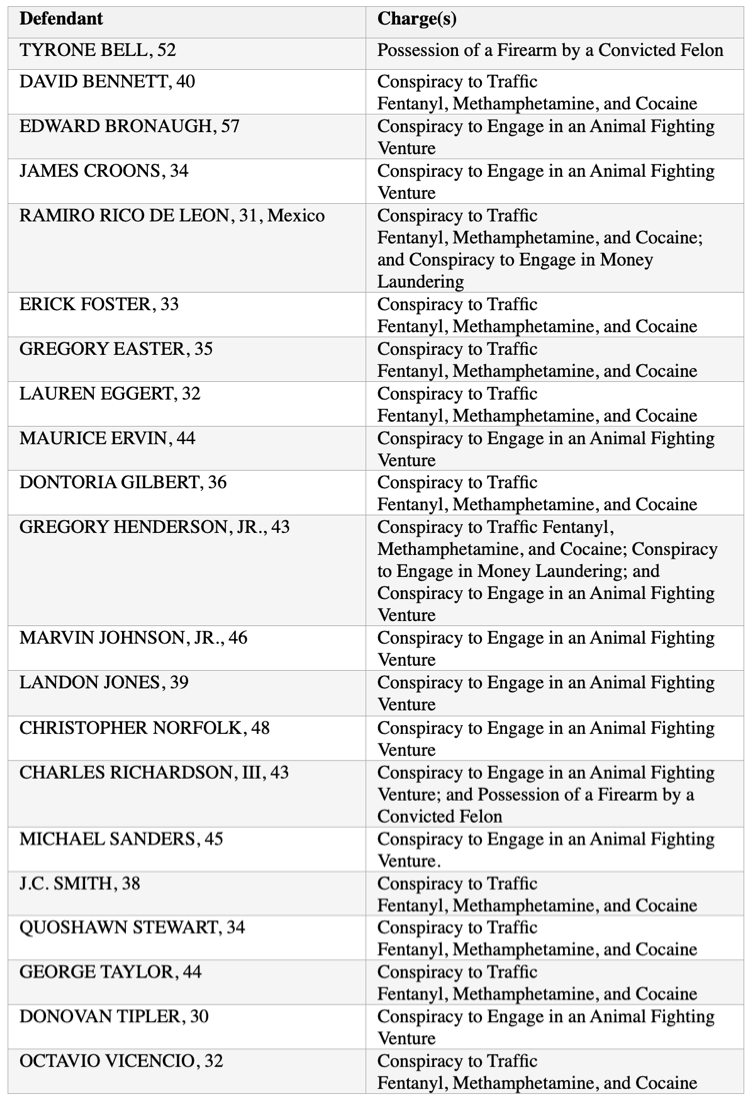 This was a multiagency operation, involving over 300 federal, state, and local law enforcement officers, who executed arrest and search warrants at 25 locations in Central Indiana on the morning of August 31, 2023. Eighteen individuals were arrested and are in federal custody. Two remain fugitives: Gregory Henderson, and Jr. Maurice Ervin
In particular, law enforcement has asked the public for assistance in locating fugitive Gregory Henderson Jr. The FBI is providing a $5,000 reward for information leading to Henderson's arrest. Those with information are asked to call 1-800-CALL-FBI or they can submit tips online at www.tips.fbi.gov.
According to court documents, Gregory Henderson Jr. and Ramiro Rico De Leon worked together to smuggle fentanyl, methamphetamine, and cocaine into the United States from Mexico. Henderson served as the main source of supply to lower-level dealers, Vicencio, Foster, Taylor, Smith, Gilbert, Bennet, Easter, Eggert, and Stewart, who dealt the drugs to buyers in Indianapolis and surrounding communities. Vicencio and Taylor were responsible for driving controlled substances from Kentucky to Indiana. Henderson and De Leon used wire transfers to pay for the costs of drug distribution and Henderson paid his dealers using CashApp.
During the course of this investigation, law enforcement agents uncovered a significant dog fighting and illegal gambling ring based in Indianapolis. Gregory Henderson Jr., Christopher Norfolk, Maurice Ervin, Michael Sanders, James Croons, Charles Richardson III, Landon Jones, Edward Bronaugh, Donovan Tipler, and Marvin Johnson Jr. were identified as dog owners who maintained dogs for the purpose of fighting. Maurice Ervin also participated as a referee, weighing the dogs and holding the money until fights were complete. Ervin, Tipler, and Croons served as handlers, responsible for motivating the dogs to fight. Jones and Norfolk served as sponsors, providing a space for the fights to be held.
Members of this group have a long history of dog fighting. In 2001, IMPD officers found seven pitbulls in need of medical attention due to lack of food and water and fresh wounds consistent with dog fighting located at Michael Sanders' Indianapolis home. In 2005, Christopher Norfolk was convicted for torturing an animal after officers seized four dogs from his home. On more than four occasions, officers found Richardson III and Ervin engaging in dog fighting activities. Both Richardson III and Ervin have sustained multiple convictions for animal torture and promoting dog fighting.
This investigation began in 2022, and in 2023 multiple search warrants were executed and the following evidence was seized:
537 grams of methamphetamine
459 grams of heroin
667.3 grams of cocaine
532.8 grams of fentanyl
Over 230 grams of marijuana
16 scales
43 firearms
Over $55,650.00 in cash
Approximately 90 dogs (including puppies)
Dog fighting training paraphernalia including treadmills, bite sticks and weights.
If convicted, each defendant charged with conspiracy to engage in an animal fighting venture faces up to 5 years in federal prison. Each defendant charged with conspiracy to traffic controlled substances faces up to life. The following investigative agencies collaborated to make this investigation and the recent warrant execution possible:
Federal Bureau of Investigation- Indianapolis
Bureau of Alcohol, Tobacco, Firearms and Explosives
U.S. Department of Agriculture-Office of Inspector General
Drug Enforcement Administration
Internal Revenue Service- Criminal Investigation
Indiana Gaming Commission
Indianapolis Metropolitan Police Department
Zachary A. Myers, United States Attorney for the Southern District of Indiana, thanked Assistant United States Attorneys Michelle P. Brady and Adam J. Eakman, who are prosecuting this case.
An indictment or criminal complaint are merely allegations, and all defendants are presumed innocent until proven guilty beyond a reasonable doubt in a court of law.