Google is one of the best ways to market your firm and acquire new clients. Savvy law firms are investing a lot in SEO and search marketing.
---
Whether you're a sole practitioner or are part of a large law firm, the search landscape for attorneys is very competitive. Google is one of the best ways to market your practice and generate new leads and clients.
When people need an attorney and don't have a personal recommendation from a friend or family member, they usually turn to Google or other internet search engines to find an attorney near them with a good reputation. If you aren't making your presence felt on the first page of Google, you're losing a lot of potential business.
Want to know how valuable attorneys and law firms consider the leads that Google can deliver? Consider a list of the 100 most expensive Google Adwords Keywords of 2016, published on Search Engine Watch. The most expensive keyword was best mesothelioma lawyer, for which law firms were willing to spend up to $935.71 per click.
Yes, you read that right: Firms are spending nearly one thousand dollars for one person to click on their ad at the top of the first page of Google after they search this query.
The list, compiled by cheap essay writer and based on data from SEMRush, is particularly relevant to law firms because 79 of the 100 most expensive keywords fall into the "legal" category.
If you're new to search marketing, this is a good indicator of just how valuable the clients delivered by these keywords are to attorneys. Generally speaking, the higher the average CPC (Cost Per Click), the more valuable a click is to a business (companies can afford to spend more on qualified traffic which converts into clients as long as they maintain a positive return on their investment).
Here are five quick steps you can take to identify important keywords for your firm, and to help you optimize your website for these valuable search queries.
Step 1: Understand How SEO Works
SEO or Search Engine Optimization is a process in which you make the subject matter and topic of your website's content easily understood by Google and other search engines. By clearly communicating the topical relevancy of each page on your website, you help Google's ranking algorithm understand what types of search queries your website will be relevant for, which can help you improve your rank for those search queries.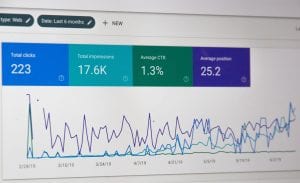 There are as many as 200 ranking factors for SEO, a figure that can sound overwhelming to most attorneys and law firms. There's good news, however. One of the key ways to improve your website's performance on Google is to address on-page SEO by optimizing your existing page titles, descriptions, headers and copy. These are also some of the easiest updates to make.
If your law firm has an established website, a few tweaks here and there to your page titles and headers could be enough to help you begin ranking competitively for some search queries.
Step 2: Create a List of Keywords Relevant to Your Business
The next step is to create a list of keywords which are relevant to your business. Google's Keyword Planner Tool is a useful resource, though it doesn't offer as comprehensive a dataset as it once did unless you spend some money on PPC (Pay Per Click) advertising. The threshold is currently pretty low to see the full data you could once access for free.
In general, your keyword list will probably be split into two primary categories: location-based keywords, and practice-type keywords.
Location-based keywords will generally include regional or city-specific modifiers to words like attorney, lawyer, law firm, etc. Some examples might be:
law firms in Raleigh
attorney in southern New Hampshire
Practice-type keywords will generally cover the major types of law your firm practices. Generally large law firms who aren't bound to a single region will target generic, very competitive keywords like:
DUI lawyer
criminal defense attorney
worker's compensation lawyers
mesothelioma lawyer
Hybrid longtail keywords: Most attorneys who practice law independently, or small to mid-sized firms who practice in a specific region should combine keywords from the two categories above to develop a more specific and targeted list of keywords. This list will help them appear in Google results for queries including location-based keywords which are practice-specific. Some examples include:
DUI lawyer in Bozeman Montana
divorce lawyer in Las Vegas (probably not a bad place to practice this type of law!)
Step 3: Confirm and Expand Your List
After you've done your keyword research and have generated what you feel is a pretty good list of keywords for your firm to target, it's time to narrow your list and focus it.
Generally I suggest bunching your keywords into different related groups so you have a good sense of the different topics you plan to target. This might look something like this:
Example: Large Law Firm with Multiple Areas of Practice in Sacramento
Homepage: Targeting General Sacramento Law Firm/Lawyer/Attorney Keywords
Areas of Practice Page: One Page Which Links to All Major Areas of Practice in Sacramento
Personal Injury Attorney Sacramento Page
Divorce Attorney Sacramento Page
Sacramento Worker's Compensation Law Firm Page
etc.
*TIP: This is also a good time to take a look at what other firms in the area are doing (specifically those that are trying to attract the same clients). This will help you to identify any opportunities you've missed, or it will allow you to pat yourself on the back if they haven't started taking SEO seriously yet.
Tools like SEMRush are very inexpensive and work well for this — simply enter a rival law firm's domain name and see all of the keywords their website ranks for and all of the keywords they're buying ads for on Google.
Step 4: Establish a Plan to Improve Your Site
After you've got an organized and comprehensive list of keywords your potential clients are searching for, and  have mapped your new content strategy it's time to come up with a plan of action.
If you have an existing website, consider how it is structured. You might be able to simply make some updates to existing pages to make your site's structure and optimization align with your new SEO goals, or you might have to build some new pages from scratch and re-organize your site's navigation now that you have a clear sense of your digital marketing goals.
If you don't yet have a website, you can build one yourself or hire an agency to do it for you (just make sure they do so with a content management system which will make it easy for you to maintain the site yourself once it's built). If you've taken the steps above you'll have a clear sense of the structure your website should have, so updating or creating a website should be a quick process.
Step 5: Execute!
The last step is the easy part (especially if you're a lawyer — someone who is accustomed to getting hard work done on a tight schedule) … execute your new, focused digital marketing plan!
Keep in mind that results may take a week, a month or a number of months to achieve depending upon how lofty your goals are. Remember: you're playing the long game and setting your firm up for long-term growth via a potent new client-acquisition source.