Now that vacation season is in full swing, you might want to plan one (or more!) of these must-do national park trips!
---
The National Park Service of the U.S. is almost turning 100, so this might be the best time to explore all the natural wonders of the United States. What the U.S. has that very few other places in the world do not is the epic vastness which means you can see various completely different landscapes all in one country. From volcanic regions in the north to marshes in the south, you'll get to experience picture-perfect sites no matter where you go. 
So, grab your hiking shoes, pick a national park that resonates with you and get ready to explore the U.S. 
Great Smoky Mountains, North Carolina and Tennessee 
Some people haven't even heard about the Great Smoky Mountains, but this national park is actually the most visited one in the U.S. Every year, over 10 million people come here to explore nature, snap some amazing photos and have a great time with their families and friends. This is heaven for hikers because some parts of the famous Appalachian Trail pass through the national park. If you'd much rather relax and enjoy nature from the comfort of your vehicle, you can take in all the vistas on a fun self-driving exploration trip through the park! And for overnight stays, you can check out Airbnb and rent a log cabin that will give you that perfect mountaineering feel. 
Yosemite, California
Just east of Fresno lies Yosemite National Park, one of the jewels of California. This place is home to Half Dome, undoubtedly one of the most exciting and beautiful places to hike and see in the entire country. However, this climb isn't for beginners! If the day is sunny and hot, the climb can be very tough, so pack plenty of water, listen to your guide or safety adviser and make sure to tell someone you're going on a hike. If you want to boost your Instagram and catch some amazing snaps, head to Glacier Point or Mirror Lake and get ready for some unforgettable sights! 
Grand Canyon, Arizona
This is a national park everyone has heard of. It's a national treasure immortalized in the collective memory of America—The Grand Canyon! This is one of the largest canyons in the world with its depth of 1 mile, width up to 18 miles and length of astounding 277 miles! Located in scenic Arizona, this national park will give you a chance to enjoy some of the most exciting sites of red rocks and deep cliffs and even learn something about Native American culture. If you want to get the best views of the canyon, there are amazing Grand Canyon helicopter tours that are worth every penny! They provide their passengers not only with the best Grand Canyon experience but they also offer aerial views of the Hoover Dam, Mojave Desert and Bypass Bridge. It's really something every visitor to the area has to experience! 
Yellowstone, Wyoming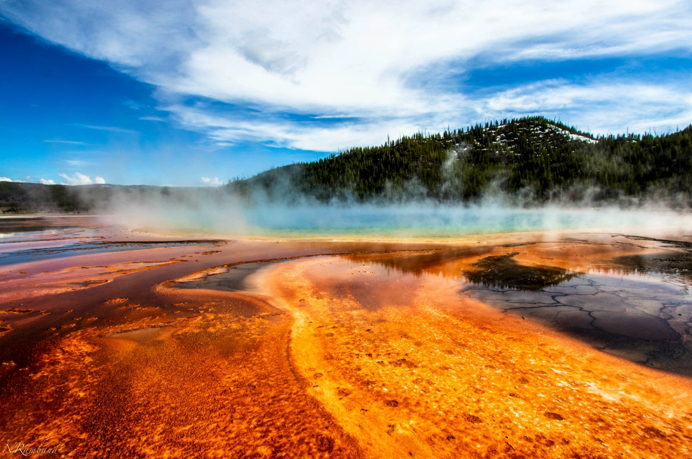 This is probably one of the most famous national parks in the world. Perched atop a volcano, this park is home to some of the most diverse wildlife from bear and bison to antelope and elk—most of which are quite easy to spot if you have a little bit of patience. Besides all the furry animals, Yellowstone also houses the most famous geyser in the world, Old Faithful, which reliably erupts every 60 to 110 minutes! When in Yellowstone, make sure to also visit some of its geothermal pools, even though they tend to be a bit stinky from all the sulfur. If you're visiting in the winter, expect to be surrounded by a true frozen kingdom. But, even though this winter wonderland is peaceful and beautiful, it's best to visit in the summer due to heavy snowfall and closed roads. 
Everglades, Florida
Compared to Yellowstone, the Everglades is a completely different world! West of Miami and all the way to Gulf Coast, the Everglades are tropical wetlands where alligators, snakes, panthers and dreaded mosquitos reign. The marshes are very hard to navigate, so it's best to enjoy them from an airboat that will get you flying through the mangroves, prairies and flooded trees in search for animals. If you keep your eyes open, you might even see the Skunk Ape, the Bigfoot of the Everglades! 
Denali, Alaska 
From hot marshes of Florida, it's time to move to one of the most remote areas of the U.S.—Alaska! Denali National Park is heaven to all explorers with its 6 million acres of wilderness, so there are a few things you might want to see. Don't miss out on visiting Mount McKinley, the tallest mountain of the continent. If you visit in fall or winter, make sure to go out and look for Northern Lights—this is a spectacle you don't want to miss! 
From the bright red rocks of the Grand Canyon to the humid marshes of the Everglades to frozen Alaska, the United States is heaven to national park lovers. So, pick one of these six beauties and start your exploration today!