Sources close to the investigation say Mohammed may not be as motivated to become a 'martyr' as he once was.
---
Khalid Sheikh Mohammed, the alleged mastermind of the September 11th attacks, is willing to assist victims and their families in a lawsuit against Saudi Arabia if the U.S. government spares him from the death penalty.
Mohammed's offer, reports the Wall Street Journal, was disclosed last Friday. Its intended to bolster a victims' lawsuit in New York, which accuses the Saudi government of helping coordinate the airplane attacks. Nearly 3,000 people died after hijackers crashed passenger jets into the World Trade Centers and Pentagon. Another flight went down in a Pennsylvania field after passengers and crew fought back, forcing the hijackers to abort a probable attempt on the White House or Capitol.
Attorneys for the plaintiffs have requested depositions from three of the five Guantanamo detainees charged with participation in the 9-11 attacks.
However, in a letter penned to U.S. Magistrate Judge Sarah Netburn, attorneys for Mohammed said their client wasn't ready to testify "at the present time."
But Mohammed's "primary driver" in at least offering assistance is "the capital nature of the prosecution."
"In the absence of a potential death sentence much broader cooperation would be possible," the filing said.
While the Wall Street Journal says Mohammed's lawyers couldn't be reached for comment, they were able to contact advocates for co-defendant Abdul Aziz Ali, KSM's nephew.
"I think [Mohammed] feels ready and willing" to assist the victims, said lawyer Alka Pradhan, "but I think he feels he needs to get through" the death penalty first.
Mohammed, at least in the past, has been notoriously reluctant to cooperate. During a 2008 hearing, KSM interrupted a military judge who referred to the proceeding as a "death-penalty case."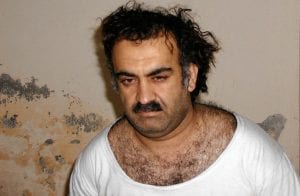 Instead, Mohammed insisted on call it a "martyr case."
"This is what I wish," he said. "I've been looking to be martyred for a long time."
But one person familiar with the case and its participants said "a lot has changed in the past 10 years."
"The 9/11 defendants are not as interested as they once were in martyring themselves," the anonymous individual said.
Nevertheless, it's not immediately clear how useful Khalid Sheikh Mohammed might be to the victims' lawsuit. James Kreindler, who's representing many of the victims and their families, suggesting that KSM's testimony might not mean much—but that it's best not to leave any loose ends.
"We're just really leaving no stone unturned," he said.
But Kriendler did tell CNBC he's optimistic about the eventual outcome, even if Mohammed's continued cooperation or usefulness isn't assured.
"I'm very optimistic about the 9/11 families winning the case against Saudi Arabia," he said.
Sources
Alleged 9/11 Mastermind Open to Helping Victims' Lawsuit if U.S. Spares Him Death Penalty
Khalid Sheikh Mohammed could help 9/11 families in Saudi Arabia lawsuit if death penalty dropped: Letter