The two sisters say they and another siblings were abused by a parish priest for years.
---
Two Bronx women who were sexually abused by a Catholic parish priest in their own homes have reached a settlement with the Archdiocese of New York.
"In bringing this into the light, the evil cannot hide and we can begin the healing process," said 54-year old Imelda Maldonado Davis in a public statement. "And we can protect all of our children."
Davis, writes The New York Daily Post, was joined for a news conference outside St. Patrick's Cathedral by her younger sister, Mercedes. Both women were targeted by the late Monsignor Charles McDonagh. The abuse began in 1972 and lasted for several years. It only stopped when McDonagh, a Bronx parish priest, was promoted.
The Post notes that neither woman nor the foundation which assisted them in the lawsuit would discuss the specifics of the settlement, saying only that they received a five-figure payout.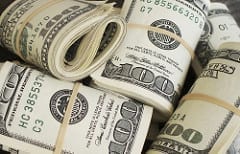 But the money—welcome as it may be—doesn't diminish the memories.
According to Davis, her family was, at first, excited by McDonagh's visits. They were happy to have a priest in the neighborhood and the house. The girls were exuberant, too, into McDonagh began slipping away from the family and into their bedroom.
"We would dread the sound of the stairs creaking," Davis said. "We knew what was coming. Father McDonagh would sit on our beds and proceed to talk quietly to us […] then he would molest my sister and I."
"This has affected me in ways that are difficult to articulate," she said.
Imelda said a third, older sister was also targeted by McDonagh in the five years of abuse.
McDonagh died in 1999, according to the Daily News.
Archdiocese spokesman Joseph Zwilling said it's policy not to reveal the details of settlements reached under Independent Reconciliation and Compensation Program.
"The IRCP has been very successful in helping people who suffered abuse by a bishop, priest or deacon of the archdiocese, and we encourage anyone with a complaint to go first to law enforcement, but then to consider filing a claim with the [IRCP]," Zwilling said.
While individual settlement details aren't publicized, it is possible to approximate how much the archdiocese has paid out in recent years.
The New York Post says New York's Catholic leadership has awarded nearly $60 million to the victims of clergy abuse in the past two years alone. Zwilling says the archdiocese created its restitution program specifically to provide for people who were abused long ago.
"In most every case, the abuse would have occurred decades ago," Zwilling said.
The purpose of the Independent Reconciliation and Compensation Program, says Zwilling, is providing financial relief while giving victims a critical outlet.
Since the IRCP was implemented, "they have heard from a number of victim-survivors that the process has helped them—not just the money they received, but the fact that they were listened to, had a chance to tell their story, and were treated with respect, sensitivity, and compassion."
Sources
Archdiocese of New York awards settlement in sex abuse case of 2 Bronx sisters
Archdiocese of NY paid nearly $60M to sex abuse victims in two years
Bronx sisters reach settlement with NY Archdiocese over sexual assaults in their home by parish priest