Abusive Jesuit Priests Retired Peacefully on College Campus
---
Father James Poole founded a Catholic mission radio station in Nome, Alaska, that broadcasted his Jesuit sermons alongside contemporary music.  He had quite the following, and had been described as charismatic, outgoing and narcissistic.  Behind closed doors, Poole was a serial sexual predator preying on nearly two dozen women and girls, according to court documents.  At least one was six years old.  Poole's inappropriate conduct was known to his superiors with one supervisor stating Poole "has a fixation on sex; an obsession; some sort of mental aberration that makes him see sex everywhere."
Poole was sent to live out his retirement years on Gonzaga University's campus in Spokane, Washington.  For thirty years, Cardinal Bea House on the university's campus served as a retirement repository for at least twenty Jesuit priests accused of sexual misconduct.  Once the abusive priests reached retirement age, the Jesuits moved them into the house.  Records show the last known abusive priest was moved out of Cardinal Bea House in 2016.
Father John Whitney, the former leader of the Oregon Province who ordered Poole to move into Cardinal Bea House, said it was the only place where past offenders could be contained effectively while also receiving necessary medical care.  Poole resided there from 2003 to 2015.  The house, Whitney said, was "a retirement community where he could be monitored."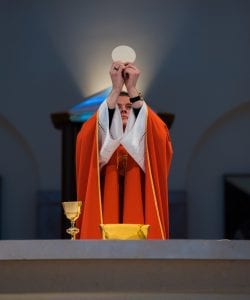 Depositions taken in 2005 revealed Whitney did not inform Gonzaga administrators or police in Spokane about Poole's history.  Non-abusing Jesuits also lived at Cardinal Bea House, but there were specific "safety plans" for abusers that banned sexually abusive priests from commingling with students.
In a deposition in one of the several lawsuits filed against him, Poole said he met with a female student alone in the living room of Cardinal Bea House when she came to interview him for a report on Alaska.  Student journalists and filmmakers in 2010 and 2011 were also permitted to interview residents.  One interviewee was Joseph Obersinner, who worked in Native communities in Montana, Washington, and Idaho, and had also been accused of sexual misconduct against a minor.
"We love being right in the middle of campus," Obersinner said. "It's a blessing to see the active energy and happiness of youth every day."
While the Cardinal Bea House is featured on campus maps and in its directory, it's not officially part of the university, but owned by the Jesuit order of the Catholic Church.  Father James Jacobson, accused of sexual abuse by members of the Alaska's Nelson Island, was sent to live in the house in the mid-2000s.  He claimed he never forced anyone to have sex, saying in a deposition that he had only had consensual sex and admitting to fathering four children.
Another priest, Henry Hargreaves, accused of sexually assaulting young boys, was sent to the house in 2003 and subsequently allowed to lead prayer services in at least four Native American communities.
Elsie Boudreau, an Alaska Native, was a station volunteer and one of Poole's victims.  Boudreau said, when she was 11 or 12, they were alone in the studio and Poole began to kiss and fondle her.  He also made her sit on his lap and lie on top of his body.
"To me, what that says is they are taken care of," Boudreau said of Poole's ability to retire comfortable on campus. "They are protected by the Catholic Church, when the victims were never protected."
Some congregations have responded to the investigation into the abusive behavior of Jesuit priests sent to live out their retirement year quietly the university.  "Jesuits West guarantees that no Jesuit with a credible allegation of sexual abuse of a minor is currently or will ever be knowingly assigned to Gonzaga University or the Jesuit community on its campus," the Jesuits West Province declared.  Instead, Jesuits facing credible allegations will live at the province's senior health care facility in Los Gatos, California.
Sources:
These priests abused in Native villages for years. They retired on Gonzaga's campus