Program designed to help startups navigate complex space regulatory environment.
---
Washington, D.C. – The industry's first U.S. space law and regulation training and certification program designed specifically for startups launched in partnership with the Air Force Research Lab's (AFRL) New Mexico Tech Engagement Office. The program, created by Washington, D.C.-based organization Association of Commercial Space Professionals (ACSP), whose mission is to provide companies with affordable regulatory and legal resources, will offer its inaugural Space Regulatory Bootcamp February 21-23 at space/aerospace business incubator Q Station. The bootcamp, which will be held virtually and in person, is designed for C-suite and legal professionals learning about space regulation for the very first time, as well as those already supporting space industry startups who want to advance their knowledge.  
"The legal and regulatory issues startups need to be aware of—and prepared to navigate—can add up, and may result in significant cost overruns, launch delays, and potentially more serious legal issues," noted Gabe Mounce, Director of the AFRL's Outreach and Tech Engagement Office in New Mexico, which is leading the partnership with ACSP. "The government has made significant advancements in the way it works with startups to foster innovation, but if the legal and regulatory support doesn't follow, these startups will fail before they even begin. This program is the first to systematically provide the legal and regulatory training needed to ensure a higher startup success rate."   
The complexity of U.S. space law and regulation is due not only to the sheer volume and type of activities regulated, but also because these activities are managed and enforced across a minimum of five government agencies: 
Federal Aviation Administration (launches, reentries)
National Oceanic and Atmospheric Administration (remote sensing)
Department of State (export controls)
Department of Commerce (export controls)
Federal Communications Commission (telecommunications, frequency allocations)
"Startups in the space industry—and even a lot of companies that aren't so new to the game—are often caught off guard by how complex the regulatory environment can be, which can have some rather severe repercussions. For example, we've all seen recent stories in the news about space companies getting in trouble with issues relating to export controls and foreign investment," noted Bryce Kennedy, ACSP co-founder and principal with Aegis Space Law, which specializes in startup space regulation support and developed the bootcamp curriculum. "Our aim is to prepare companies for these issues so they can proactively address issues before they become existential threats."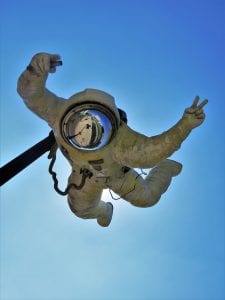 Historically, high-caliber counsel specializing in international space law and regulation has been the domain of large law firms, making it accessible only to sizable aerospace defense organizations that can afford to retain counsel ongoing. Vulnerable startups generally lack the resources—particularly in the earliest stages of their corporate lifecycle—to secure this level of support and specialized expertise. Many may not have legal counsel at all, and those who do often retain counsel more generalist in nature, to work across every aspect of their business.   
The Space Regulatory Bootcamp curriculum was built with the unique needs of these startups in mind. Curriculum is leveled to quickly and effectively train startup CEOs, senior executive leadership, and legal counsel with little to no preliminary knowledge of space regulation. Further, because the regulatory environment is continuously changing, it can also add value for current space industry lawyers, connecting them to key resources and saving hours of research.  
Training focuses on several key areas as they pertain to space startups: regulatory licensing requirements, startup fundraising, commercial and government contracting requirements, and intellectual property. Experts in space regulation will provide the training, which includes sessions such as:
International Traffic in Arms Regulations
Export Administration Regulations
Spectrum Management
FCC Licensing
Ground Station Services & FCC Alternatives
NOAA Regulations & Policy Updates
Cybersecurity
CFIUS & Foreign Investments
Intellectual Property
Inaugural participants will be eligible at no additional cost to take an online exam in March 2023 to obtain their Commercial Space Regulatory Professional™ Certification, accrediting their space regulation credentials. 
"While it may seem like an administrative technicality, the criticality of this service for startups simply cannot be overstated," Mounce stated. "Without this kind of support, the entire space industry will lag in development by years, if not decades." 
About Air Force Research Lab
The Air Force Research Laboratory, or AFRL, is the primary scientific research and development center for the Department of the Air Force. AFRL plays an integral role in leading the discovery, development, and integration of affordable warfighting technologies for our air, space, and cyberspace force. With a workforce of more than 11,500 across nine technology areas and 40 other operations across the globe, AFRL provides a diverse portfolio of science and technology ranging from fundamental to advanced research and technology development. For more information, visit: www.afresearchlab.com.
About Association for Commercial Space Professionals
The Association of Commercial Space Professionals was formed in 2022 to provide continuing education to professionals in the commercial space industry and recognize competence through examination and credentialing. The ACSP's flagship credential is the Commercial Space Regulatory Professional (CSRP)™, which will be tested and awarded at several levels of competence. The initial testing for the CSRP credential will begin in March of 2023.