In addition to settling a discrimination lawsuit, Walmart announced it will make changes to its reassignment policies for disabled workers.
---
After agreeing to settle a discrimination lawsuit for $80,000, Walmart announced it will also begin making changes to its policy on reassigning disabled workers. The recently settled lawsuit, which was filed by the U.S. Equal Employment Opportunity Commission (EEOC), argued the retailer "failed to provide longtime employee Veronica Resendez with sufficient options after she developed stenosis of the spine and could no longer perform her role as a sales associate at a Walmart store in Augusta, Maine."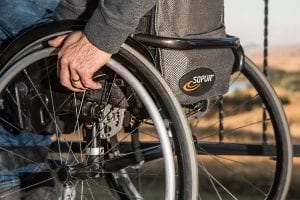 According to the suit, Walmart told Resendez that the only two jobs available that could "accommodate her disability were fitting room associate and people greeter, but no such roles were available at the Augusta store." There were, however, "two fitting room associate positions available in Waterville and one in Thomaston." Unfortunately, Walmart failed to let Resendez know those positions were available because at the time, the retailer's disability reassignment policy only "searched for open positions in the store where the employee had been working."
In the suit, the EEOC stated that Resendez would have "happily accepted jobs in either of the two other locations if they were offered." However, because she was unable to find a new position in the store where she was working, Resendez ended up leaving the company. As a result, the EEOC argued Walmart violated the Americans with Disabilities Act, which offers protections for employees with disabilities and states that disabled employees "must be offered reassignment to a vacant position as part of reasonable accommodations allowing them to keep their jobs."
What kind of changes does Walmart plan to make to its reassignment policies, though? For starters, the company said it plans to change the policies "so that workers with disabilities can ask the company to search up to five stores beyond their current location for a vacant position." Additionally, as part of the settlement, Resendez will receive $80,000.
When commenting on the incident, Jeffrey Burstein, regional attorney for the EEOC's New York District Office, said, "Federal law requires employers to reassign employees with a disability to vacant positions as the reasonable accommodation of last resort." He added, "We are very pleased that this lawsuit, which arose from a single employee's complaint, resulted in the nationwide change we sought, and we applaud Walmart for making that change."
Kevin Berry, the EEOC New York District Director also chimed in and said, "Employers cannot refuse to offer a reasonable accommodation required by law absent undue hardship. This case demonstrates that looking beyond the home store for a vacant position is not an undue hardship."
How did Walmart respond to the discrimination allegations and recent settlement agreement? Well, Walmart spokesman Randy Hargrove issued the following statement:
"We don't tolerate discrimination of any kind. We've been a top employer for people with disabilities for many years and have thousands of associates who perform their jobs with reasonable accommodation, including job reassignment. Well before the settlement we were testing a program that lets hourly associates search other stores in their area for a job they can perform, and we plan to roll this out to all U.S. stores by February 2020. We are pleased to resolve this matter and wish Ms. Resendez well."
Sources:
WALMART CHANGES DISABLED WORKERS REASSIGNMENT POLICY AFTER SETTLING DISCRIMINATION LAWSUIT
Walmart alters disability reassignment policy to settle lawsuit