Florida pharmacy, AgeVital, is set to pay at least $775,000 to settle a lawsuit alleging fraud brought about by a patient who received unwanted medications.
---
The Sarasota area pharmacy, AgeVital, and its owners are set to pay $775,000 to settle a federal lawsuit.  "The settlement resolves allegations that AgeVital, at the direction of the Wilkinses, paid kickbacks to a third-party marketing company to solicit prospective patients for compounded drug prescriptions regardless of patient need.  The marketing company arranged for prescribers to sign those prescriptions, which were then referred to AgeVital to be filled.  The kickbacks to the marketing entity allegedly consisted of a substantial share of the pharmacy's TRICARE and Medicare reimbursements," according to the United States Justice Department who investigated the case.
In an unusual twist, instead of an insider filing a whistleblower lawsuit against the company, these fraud allegations came from a patient.
"It was a patient looking at a bill, getting medication he knew he didn't ask for, and actually have the courage to do something about it," said Jesse Hoyer, an attorney on the case.  The patient was a victim of a slip and fall and complained he received two shipments of pain medication he was not prescribed as well as scar cream.  Federal investigators believe AgeVital's owners received Medicare payments of more than $37,000 for the unsolicited medications the patient didn't need.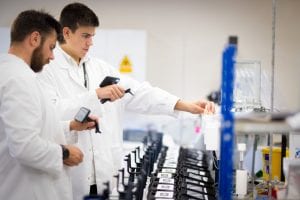 "On the third delivery, [he] actually called the company, said 'stop sending these things to me.'  And instead of saying 'okay,' they pushed back on him, so he did something about it," said Hoyer.  The attorney added, "They made a killing sending these unsolicited medications to Medicaid, Medicare patients.  It was a company built purely on a profit model.  They weren't trying to help patients."
AgeVital owner, Dr. Jenny Wilkins, is a well-known member of the community who has appeared on television.  She agreed to pay more than three-fourths of a million dollars at the advice of her attorney.
"This attack is a perfect example of the politics involved with big government, the insurance companies and jealous big pharmaceutical wanting to eliminate the private pharmacy sector," said Dr. Wilkins.
She insists there was no wrongdoing and the pharmacy did not break any laws, stating there were, "No kickbacks from third parties.  Nothing." AgeVital's owner also maintains this case should have been between the patient and his physician instead of the pharmacy.
"These prescriptions were ordered to increase profits, not improve the healthcare of patients. Healthcare providers who satiate their greed at the expense of the American taxpayer will not be tolerated," said Shimon R. Richmond, Special Agent in Charge for the Office of Inspector General of the U.S. Department of Health and Human Services (OIG).  "This settlement demonstrates the resolve of OIG and our law enforcement partners to root out fraud, waste, and abuse in our healthcare system."
"The Department will continue to hold accountable providers that pay illegal kickbacks to induce patient referrals," said Assistant Attorney General Jody Hunt for the Department of Justice's Civil Division.  "Kickback schemes undermine public trust in our health care system and lead to unnecessary health care costs at taxpayers' expense."
"We will not tolerate those who profit at the expense of taxpayers by entering into illegal kickback arrangements," said U.S. Attorney for the Middle District of Florida Maria Chapa Lopez.  "Our office is committed to holding individuals accountable for corporate malfeasance."
Hoyer said the misconduct was discovered thanks to a patient who believed the taxpayers were being cheated, adding, "You [as a taxpayer] have the power to stop this fraud."
Sources:
Sarasota pharmacy owners agree to pay $775,000 settlement
Florida Compounding Pharmacy and Its Owners to Pay at Least $775,000 to Resolve False Claims Act Allegations