There are many reasons why people should thank Joan Claybrook for her work. That work includes championing airbags and rating vehicles for safety.
---
Thanks to Joan Claybrook. There are many reasons why people around the world should thank Joan Claybrook for her work on saving lives. That work includes, among many other things, championing airbags and rating vehicles for safety. I had the privilege to participate in some efforts that are important to saving lives to this day.
Automatic Crash Protection – Airbags
As Administrator of NHTSA, Joan assigned me responsibility to organize a NHTSA Report to Congress, "Automobile Occupant Crash Protection, Progress Report No. 3." NHTSA published the Report in July 1980 describing the case for automatic crash protection.1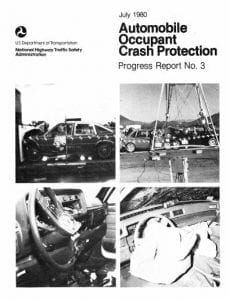 During the transition period after Republican Ronald Reagan was elected but not yet in office, Joan had me assist her in drafting a Nov. 28, 1980 letter that she sent to the auto company executives. She set forth the safety needs that could and should still be addressed. Joan put the companies on notice with safety measures by which they could be held accountable.2
Then as the Reagan Administration took office, Republicans appointed a former coal industry lobbyist, Raymond A. Peck, Jr., to be NHTSA Administrator. Among the anti-regulatory actions taken were the rescission of the airbag rule and reduction in NHTSA staff by 300 people (one third of the agency).
Michael R. Lemov, in his book The Car Safety Wars, described how the battle for airbags raged on for another decade culminating in legislation in 1991 requiring airbags in motor vehicles. The book was reviewed in the September 2015 issue of Trial.3
After leaving NHTSA, Joan continued the fight for airbags in the courts, the Congress, the media, and in legislatures across the nation for the next decade.
One victory in the long war for safety was the unanimous Supreme Court decision of June 24, 1983 that overturned the Reagan/Peck rescission of the airbag rule. Justice Byron White wrote the immortal words:
"For nearly a decade, the automobile industry has waged the regulatory equivalent of war and lost – the inflatable restraint has proved sufficiently effective. Now the automobile industry has decided to employ a seatbelt system which will not meet the safety objectives of standard 208." 4
I was personally gratified that the Supreme Court cited the NHTSA July 1980 Report that Joan assigned me to prepare.5
NHTSA reports that, by 2015, frontal airbags have saved 44,869 lives in the U.S. alone, and that number is increasing each year by about 2,500 more lives saved. NHTSA does not yet estimate lives saved by side airbags.6
Crash Testing Vehicles and Publishing Safety Ratings
Another life saving initiative by Joan was to create the New Car Assessment Program (NCAP) in 1979. The NCAP would crash test vehicles at 35 mph (5 mph greater than the 30 mph minimum required by the frontal crash safety standard for all vehicles).
NCAP was designed to encourage competition among automakers to improve safety through the publication of test results. In January 1981, NHTSA published ratings in the first The Car Book. Current issues are available from the Center for Auto Safety.7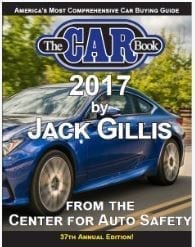 One aim of NCAP was to give consumers comparative safety performance information by make and model to empower wiser safety decisions.
Another aim of NCAP was to provide automakers with a market incentive to improve safety. Star Ratings are required on all new car window price stickers so that consumers are not kept in the dark on safety and left buying blind. The price is for the car. Lives are priceless.
One story was that when Honda launched the 1980 Civic, it failed the 35 mph test terribly. The next year NHTSA tested the 1981 model Civic that had several safety improvements. The 1981 model passed the new NCAP standard.8
Fast forward to the early 1990s and I was managing a research project at the University of Miami studying crashes, injuries, treatments and outcomes. A severe frontal crash of a 1981 Civic in which the driver survived prompted the question: Could the changes made a decade ago to meet the NCAP requirements be found to have quantifiable statistical results in saved lives?
I asked Dr. Malliaris, one of the foremost crash injury scientists of the time, for a statistical study of fatality rates in 1980 Civics compared with 1981 Civics. The results found a 42.4 percent reduction in fatalities in frontal collisions in 1981 – 83 Honda Civics. (See pp. 79 – 82 in the NHTSA Report to Congress 1993).8
There is a follow up story that I was not able to publish at NHTSA without a formal cost study. At the time, the former Honda Chief Engineer who had worked on the modifications to the 1981 Honda Civic was in Washington. I showed him the analysis and he was pleased to see the lifesaving results.
Then I asked him how much the changes cost. He proceeded to tell me each change beginning with the cents saved on excess lap belt material removed. Total additional costs amounted to about $13.60 per vehicle.9
The U.S. NCAP has been spreading around the world to improve safety and save lives in other countries, too.9 10
Joan's work also included being President of Public Citizen from 1982 – 2009.
Since 1986 she has worked to stop product liability legislation.
She helped start the following organizations:
Public Justice
Advocates for Highway and Auto Safety
CRASH, Citizens for Reliable and Safe Highways
Joan initiated a nation-wide effort to enact child restraint laws in every state.
A recent talk by Joan on How Congress Really Works was given at the Nader Conference "Breaking Through Power".11
Lives Saved in the U.S.
NHTSA estimates that vehicle safety technologies saved more than 600,000 lives since Joan worked at NHTSA as a staffer to its first Administrator, Dr. William Haddon. In that role, she herded a slew of vehicle standards to promulgation prior to 1969 when President Nixon's Administration took power.12
How many people and families now and in the future will owe Joan Claybrook and Ralph Nader a heartfelt "Thank You" for their service?
I, for one, am grateful to have contributed a little.
References
5) Over the next several years, the automobile industry geared up to comply with Modified Standard 208. As late as July 1980, NHTSA reported: [463 U.S. 29, 38]
"On the road experience in thousands of vehicles equipped with air bags and automatic safety belts has confirmed agency estimates of the life-saving and injury-preventing benefits of such systems. When all cars are equipped with automatic crash protection systems, each year an estimated 9,000 more lives will be saved, and tens of thousands of serious injuries will be prevented." NHTSA, Automobile Occupant Crash Protection, Progress Report No. 3, p. 4; App. in No. 81-2220 (CADC), p. 1627 (hereinafter App.).