A doctor and nurse in Alaska are charged separately in opioid epidemic.
---
Alaska doctor, 74-year-old Lavern Davidhizar, and 48-year-old Jessica Joyce Spayd, a nurse practitioner, face federal charges of illegally distributing millions of opioids.  The Alaska U.S. attorney announced that the medical professionals have been arrested and charge separately with "providing opioids to patients who did not require them."
According to authorities, Spayd is the owner of Eagle River Wellness and has been charged with "distribution of narcotic substances resulting in death."  The U.S. Drug Enforcement Administration (DEA) discovered "at least 19 of Spayd's patients died within one month of filling an opioid prescription" issued by her.  A dozen died within two weeks and five died the same day or the next day.
Davidhizar is a physician at Family Medical Clinic in Soldotna, was charged with "distribution of a scheduled controlled substance."  He was known to patients as "The Candy Man."  Spayd distributed more than 4 million doses of opioid narcotics to 450 patients in the five-year period between 2014 and 2019.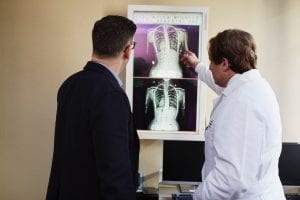 The doctor was investigated after the DEA noted patients were traveling especially long distances to visit him and prescriptions for addictive opioids were being written even before the previous ones had expired.  Davidhizar's patients scheduled appointments using multiple names and their prescriptions were issued at many different pharmacies.  The affidavit read, "Davidhizar prescribed more than 700,000 narcotic pills between 2017 and 2019, and "was well known in the drug abuser community on the Kenai Peninsula."
As part of the investigation, undercover Federal Bureau of Investigation (FBI) agents posed as patients of the nurse and doctor showing signs of opioid addiction but "little pain justifying the opioids they sought" to see if the medical professionals would prescribe pain pills.  Spayd faces a minimum of twenty years in prison, while Davidhizar faces a maximum of twenty years.
Alaska has been his hard by the opioid epidemic with tramadol a major contributor to the problem.  According to the DEA's database titled the Automation of Reports and Consolidated Orders System, or ARCOS, over a six-year period from 2006 to 2012, nearly six million prescription pain pills were supplied to the city of Juneau, which experts say equates to just under thirty pills per person per year.  In the entire state, that number of was over 138 million.
Alaska Natives are considered a particularly at-risk population for opioid addiction because of the high rates of painful, rheumatological conditions like arthritis that the natives are known for experiencing.  In 2015, prescribing of opioids reached its peak in Alaska and the state had the highest overdose fatality rate.
"Many patients are frustrated when we refuse to write them a prescription for opioids," Dr. David J. Vastola, a medical doctor for the Southeast Alaska Regional Health Consortium, or SEARHC, said. "They've been led to believe that these drugs are what they need, and they get upset, and often quite defensive, when they are told otherwise."
In Juneau, the largest distributor of pills was Fred Meyer, a Kroger company.  Its retail locations distributed a total of nearly 2,000,000 pills over a six-year span.  Second was Safeway with 1,549,990, and third was Ron's Apothecary Shoppe with 832,870 pills.  McKesson Corporation and Cardinal Health were found to be the two largest pharmaceutical companies to sell to the pharmacies.  The largest manufacturer was SpecGx, a subsidiary of Mallinckrodt Pharmaceuticals.
Sources:
We Didn't Stand a Chance Against Opioids
Alaska doctor, nurse charged with vast opioid distribution