Another Coffee Creek inmate is suing the Oregon Department of Corrections, claiming she was sexually abused by a male nurse working at the all-women's facility.
The lawsuit, writes OregonLive.com, is the seventh accusing Tony Klein of sexual misconduct. It expands upon claims made by other women, alleging that Coffee Creek staff created an abusive atmosphere and hostile culture. Managers, medical staff and other officials purportedly knew about Klein's crimes, but opted to either ignore them or withhold judgment.
While Klein may have coerced inmates into having sex, the lawsuit claims Coffee Creek maintained order through a combination of fear, bullying and intimidation.
"Klein exploited that atmosphere that 'You do what I tell you to do. You do what I want. We control everything about you'," said Michelle Burrows, an attorney for the inmate.
"The atmosphere allowed [Klein] to thrive," she added.
OregonLive.com notes that the woman is also being represented by Leonard Williamson, a Salem attorney and former inspector general for the Department of Corrections.
Klein hasn't been charged with a crime.
But the lawsuit indicates that Klein may have 'groomed' inmates, attempting to emotionally bond with them prior to an assault.
The woman who filed the latest suit, says OregonLive, accuses prison officials of knowing that Klein groomed convicts and "had a sexual predator pattern which was known to many staff members."
In her case, Klein allegedly told her that she was attractive. He also told the plaintiff about his difficult marriage, hard home life and other "highly personal issues." Sometimes he either assisted or stayed back with the inmate, who was entrusted with cleaning rooms in the jail hospital.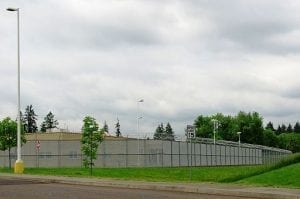 Eventually, Klein took her to "hidden areas" within the medical unit and had sex with her.
"She was uncomfortable but Defendant Klein told her that if she told anyone about what was happening, no one would believe her and she would be punished," the lawsuit claims.
According to the plaintiff, Klein later told her that he had similar relationships with other female inmates.
"His behavior was so odd that it was obvious and notorious," the suit says. "No other medical or security staff would ever assist in cleaning offices or those types of menial tasks."
She claims the abuse began in 2011 and continued until 2017.
OregonLive reports that the plaintiff is seeking $5 million damages.
Another Coffee Creek employee, Douglas Cloutier, was also investigated by Oregon State Police in 2018. Officers interviewed and took statements from eight women who said that Cloutier sexually abused them, purportedly coercing inmates in the kitchen to perform oral sex. Others said Cloutier groped them and would occasionally turn violent.
One inmate, who says Cloutier forcibly kissed her in a walk-in cooler before coercing her to perform oral sex, claims to have sought psychological help after the assault; Coffee Creek responded by giving her a children's coloring book.
Neither Klein nor Cloutier were charged.
Sources
Former Coffee Creek Inmates Allege 'Widespread' Sex Abuse, Rape
Former prison nurse faces another lawsuit alleging sexual misconduct with inmate
More sexual-assault reports at Coffee Creek prison raise questions