While Trump administration attorneys say the president is within his rights to conduct business as a private citizen, they're still trying to auction off one of his most troublesome properties.
---
Three lawsuits accusing President Donald Trump of profiting atop his office are making their way through federal court.
According to National Public Radio, each of the suits has recently advanced into 'critical stages.' On Thursday, the U.S. Court of Appeals for the 4th District in Richmond, Virginia, will hear arguments to reconsider an earlier ruling. As NPR notes, a smaller, three-judge panel of the 4th District had earlier dismissed a suit against Trump for lack of standing.
That suit, adds NPR, was filed by the attorneys general of Washington, D.C., and Maryland. Both accuse Trump of violating the Emoluments Clause of the U.S. Constitution, which prohibits sitting presidents—along with other federal officials—from receiving money and gifts from state actors and foreign governments.
Deepak Gupta, an ethics attorney working with D.C. and Maryland, said Trump's been disrespecting Emoluments Clause since taking office.
"From the moment he became president, Trump was in violation of the Foreign Emoluments Clause," Gupta told NPR. "He is openly doing so in a rather brazen way, in a way no other American president has done."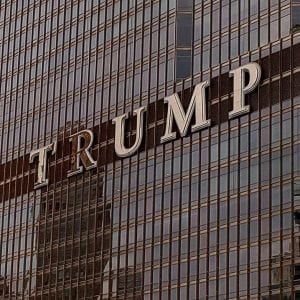 The 4th District case centers on a Trump-branded hotel in Washington, D.C., mere blocks away from the White House.
Ever since Trump assumed office, scores of officials—many from Saudi Arabia, Russia, and ex-Soviet countries—have stayed at Trump International, collectively spending hundreds of thousands of dollars. Plaintiffs claim that Trump's directly benefiting from such expenditures, potentially compromising his ability to represent U.S. interests abroad.
According to the attorneys general behind the case, foreign government officials have opted to book stays at Trump International over their own subsidized properties in the city—thus showing they believe a few nights in a hotel can curry favor with the president. National Public Radio points to a call between Ukrainian President Volodymyr Zelenskiy and Trump, recorded late July—the same call, in fact, which launched the impeach inquiry. In it, Zelenskiy repeatedly mentions his patronage of Trump-branded properties.
"Last time I traveled to the United States, I stayed in New York near Central Park, and I stayed at the Trump Tower," Zelenskiy said.
The implication is worrisome—that Trump may be easily manipulated by foreign leaders praising him and his business acumen.
However, Trump's legal team have spent months looking for outs. They're purportedly in talks to sell off of rebrand Trump International. Doing so would effectively kill the attorneys general suit.
In the meantime, administration lawyers say the suit shows little.
"These claims are also speculative because first, they assume that the operation of a single luxury hotel in downtown Washington, D.C., would have an extraordinarily wide-ranging impact on D.C.'s and Maryland's economies, and second, they are necessarily dependent on the independent choices of third-party customers not before the Court," they said.
Administration attorneys further claim that President Trump's official duties aren't compromised by transactions performed or profits accrued as a private citizen.
Sources
Appeals Court Rehears Arguments in Trump Hotel Lawsuit