Man is arrested for investigating "weird things" in Bozeman, Montana. Meanwhile, a baby bear is wandering around and a man crashes into a federal building. Weird…
---
A Bozeman, Montana, man was arrested after he was discovered trucking through several backyards and entering the garages of area homes.  The police report indicated that Eric Sellegren, 39, was found walking through his neighbors' properties and going through their belongings, taking a few of them with him as he ventured about.  When they confronted him, the man said"weird things are going on in Bozeman and it was his duty to investigate."
Curious, officers probed Sellegren for more information.  But, when asked what he meant, exactly, by "weird things," he couldn't provide an answer.  They placed him under arrest for criminal trespassing and disorderly conduct.  Among the belongings confiscated from his person was a pair of pruning shears.  It was unclear what Sellegren planned to do with these, but when asked, he admitted he had taken them from inside in unlocked shed.
After reaching out to the property owner, officers confirmed that the shears were indeed stolen and Sellegren was subsequently charged with burglary.  If he is found guilty of all charges, he now faces up to twenty years in prison.  If not, however, neighbors are sure to start locking their doors – or joining in the search for the alleged "weird things."
Perhaps one of the things Sellegren was referring to was 54-year-old William David Hutton's recent arrest for purposely plowing his vehicle into a government building.  According to the police report, Hutton drove into an entrance of the Bozeman Federal Building the same day Sellegren was apprehended.  Coincidence?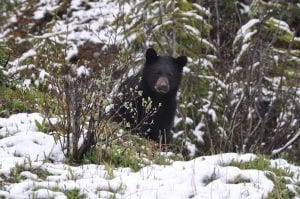 The case was investigated by the Federal Bureau of Investigations (FBI) and Federal Protective Services along with the Bozeman Police Department, and Hutton was ultimately charged with destruction and attempted destruction of government property.  Of course, Hutton's defense attorney said reports that this was an intentional act are merely speculation and he is presumed innocent until proven guilty.  If convicted, he faces up to ten years in prison, a $250,000 fine, and three years of supervised release.
Or, perhaps Sellegren was referring to the fact that a baby black bear recently showed up at one residence in the Bozeman area, surprising homeowners by meandering about their yard and apparently befriending their cats.  This certainly isn't can everyday occurrence.  The owners called local law enforcement and Sheriff Allen Fulton responded, helping to haul away the creature.
The Rosebud County Sheriff's department later posted on its Facebook page, "You know wildlife news travels fast when a bear wants a ride in the Sheriff's pickup, rather than taking a ride, in a cage, with Montana Fish Wildlife & Parks.  The bear probably doesn't like Sheriff Allen Fulton either, since he motivated him with some rubber bullets and 'cracker rounds'…The homeowners got a surprise when they arrived home and found the bear hanging out with their cats (the cats were just as surprised)…So far, this is the outcome everyone wanted (probably going to the neighbors, so we can do it again tomorrow)."
So, maybe Sellegren is right – Bozeman, Montana is a little weird.  Any investigation, however, should be handled by the proper authorities rather than a civilian.
Sources:
Man accused of burglary allegedly says he was investigating 'weird things' in Bozeman
Bozeman area man charged with destruction of government property after driving into federal building
Bear surprises Montana homeowners, gets a ride in sheriff's truck