The inmates claim that the sedative, midazolam, sometimes leaves the condemned to die an excruciating death while fully conscious.
---
Death row inmates in Arkansas have filed a federal lawsuit against the state, claiming the sedative it uses before lethal injections can have excruciating side-effects.
Arkansas, writes the Associated Press, has long been tight-lipped about its 'lethal injection drug sources.' The lawsuit, which heads to trial Tuesday, could impede the state's efforts to resume executions. According to the inmates, a sedative called midazolam sometimes leaves the condemned conscious while they're being killed.
Robert Dunham, executive director of the Death Penalty Information Center, told the Associated Press that the lawsuit's outcome could influence other states seeking to avoid inhumane executions. But Dunham doesn't believe the attention is benevolent. He claims that the "states that are watching […] will be looking to see what Arkansas is able to get away with."
Since exhausting its supply of lethal injections in 2017, Arkansas hasn't killed any more of its death row inmates. The AP says that even once the stock is restored, there won't likely be a fast flurry of executions; of all the state prisoners sentenced to die, only one has exhausted all of his appeals.
But officials do believe they'll be prepared by the end of summer.
However, the inmates' case could be complicated by a recent Supreme Court ruling. Arkansas Attorney General Leslie Rutledge says the plaintiffs won't be able to shoot low—last month, the justices found that painful executions aren't necessarily illegal. Writing on behalf of the majority, Trump-appointee Neil Gorsuch said the U.S. Constitution "does not guarantee a prisoner a painless death."
And Rutledge, says the AP, believes the lawsuit is a transparent attempt to evade justice.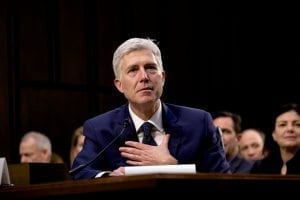 "Juries gave these individuals lawful sentences for committing the most heinous acts against a human being, taking another human being's innocent life," Rutledge said. "We must see these sentences carried out. The families of these victims deserve justice."
The inmates' case is expected to focus on midazolam, which doesn't always push prisoners into unconsciousness before lethal injection drugs are administered.
While the Supreme Court upheld the viability of midazolam in executions as recently as 2015, its contingencies and moral quandaries have prompted numerous lawsuits. In some instances, its use has been discontinued.
About thirty states still retain the death penalty, although some, like California, have effectively discontinued its enactment.
Seven of those states use midazolam as the first drug in a three-step injection series; two others use it in a two-drug process.
The Associated Press notes that midazolam's critics have pointed to gruesome executions as evidence of its instability. In 2014, Oklahoma inmate Clayton Lockett remained alive for nearly an hour after the drugs were administered, due in part to an improperly connected intravenous line.
In order to force Arkansas to switch to another drug, the inmates will have to prove that there are less painful but still effective methods of administering lethal injections or carrying out executions by other means.
The trial, adds the AP, comes several weeks after Arkansas Gov. Asa Hutchinson signed into law a secrecy proposal that masks the state's source of lethal injection drugs. Several pharmaceutical companies joined anti-death penalty activists in protesting the legislation, saying they've a right to know whether their products are being used in executions.
Sources
Arkansas faces new court fight over sedative for executions
Arkansas Sued by Death Row Inmates Over Sedative for Executions