The member of the United Constitutional Patriots is also a convicted felon and is being charged with illegal possession of firearms and ammunition.
---
The FBI has arrested a member of a citizens' militia that recorded itself holding migrant families at gunpoint along the U.S.-Mexico border.
The announcement, notes CNN, was made by New Mexico Attorney General Hector Balderas. According to him, the FBI arrested 69-year old Larry Mitchell Hopkins on Saturday.
Hopkins, who'd taken it upon himself to guard the border, is also a convicted felon. He was identified in a video uploaded by the United Constitutional Patriots, a militia that purports cooperation with federal authorities. In one clip, militia members could be seen shining bright lights onto a large group of migrants. Wielding semi-automatic weapons, they prevented anyone from leaving until Border Patrol officers arrived.
Unfortunately for Hopkins, he was also featured in the footage. FBI agents arrested him on charges of possessing a firearm and ammunition, neither of which felons are allowed to purchase, own or otherwise handle.
Authorities were prompted into action, at least in part, by activist outrage. The American Civil Liberties Union, among others, likened the mass detention to kidnapping.
Representatives for the group, however, have said their actions are akin to a "verbal citizen's arrest."
However, in the days since, the New Mexico government and its attorney general have repeatedly stressed that they do not condone the United Constitutional Patriots and wish for the group to cease its patrols and arrests immediately.
Speaking specifically of Hopkins, Attorney General Balderas said the sexagenarian is himself a threat.
"This is a dangerous felon who should not have had weapons around children and families," Balderas said in a statement. "Today's arrest by the FBI indicates clearly that the rule of law should be in the hands of trained law enforcement officials, not armed vigilantes."
While Hopkins isn't expected to appear in court until Monday, private organizations have already moved to cut off United Constitutional Patriots from its funding.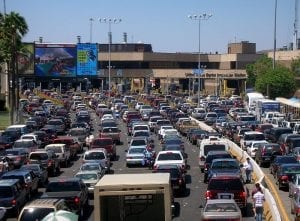 According to DailyDot.com, the 'Patriots' were sustaining themselves through individual donations and funds raised online. The militia garnered "thousands of dollars" from supporters on PayPal and GoFundMe, with much of the money used to purchase supply food, gasoline, and portable camp toilets.
But on Friday, PayPal and GoFundMe decided to block the group from using either website.
Both websites, notes BuzzFeed, cited anti-hate and anti-violence clauses in their terms of use. They also claim that the UCP used donations to purchase firearms.
"The account associated with United Constitutional Patriots has been closed due to a violation of our Acceptable Use Policy," a PayPal spokesperson told BuzzFeed News. "We do not allow PayPal services to be used to promote hate, violence, or other forms of intolerance that is discriminatory."
Markey Cheney, the self-described commander of the United Constitutional Patriots, told BuzzFeed the allegations are simply untrue.
"They killed us," Cheney said. "I have to find some other way for people to donate."
Cheney also conceded, when apparently pressed by BuzzFeed, that the group wears uniforms and bears insignia that could be lend to them being misidentified as law enforcement.
"If [immigrants] can't tell the difference, that's their problem," he said.
Peter Simonson, executive director of the ACLU in New Mexico, voiced concerns about the militia's apparent impersonation of actual authorities.
"That's one crime that is a federal felony," Simonson told BuzzFeed News. "I also suspect the militia could be guilty of false imprisonment and maybe even kidnapping, and that's just the tip of the iceberg."
Simonson also said that illegally crossing the U.S.-Mexico border is a civil offense and not grounds for citizen's arrest.
Sources
A member of an armed group detaining migrants at the border has been arrested by the FBI
PayPal, GoFundMe cut off armed militia that detains migrants at border
"They Killed Us": Crowdfunding Sites Have Cut Off An Armed Militia Detaining Migrants At The Border