An astronaut accesses her wife's account from space and her wife is calling it can invasion of privacy.
---
U.S. Army lieutenant colonel and astronaut Anne McClain has been accused of improperly gaining access to her estranged wife Summer Worden's online bank account using NASA computers.  McClain allegedly accessed the bank account as part of a "highly calculated and manipulated campaign to obtain custody of Worden's son, who she had given birth to about a year before the couple got married," according to court documents.  And she did so while up in space.
Former Air Force intelligence officer Worden filed a complaint against McClain with the Federal Trade Commission (FTC) alleging McClain had committed identity theft.  She found out about her ex's plans when she became curious about how McClain knew details about the way she'd been spending her money, even though McClain was orbiting the earth at the time.
Worden's parents filed a complaint against McClain with NASA's Office of Inspector General, alleging "identity theft and improper access to Worden's private financial records."  McClain told the inspector general she did access the private financial information.  However, she said she did so because they were simply separated and still a couple – checking in on Worden's finances to "make sure that there was enough money to support Worden's child, who they had been raising together."  McClain claimed that she was using the same password that she had always used.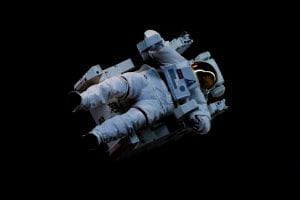 McClain and Worden married in 2014, with Worden filing for divorce in 2018 after McClain accused her of assault, which Worden denies.  The charge was ultimately dismissed.  Worden previously denied McClain's attempts to adopt the boy and believes the assault charge and accessing her accounts were both attempts to gain custody of the child.
McClain took Worden to court in 2018 to get shared parenting rights of the boy.  She accused Worden of having an "uncontrollable temper and making poor financial decisions" and Worden filed for divorce after now-deleted pictures of her son and McClain were posted to her Twitter.
Worden allegedly contacted her bank and was informed that her sign-in credentials had been used on a computer registered to the National Aeronautics and Space Administration.  Apparently, McClain had been gaining access from The International Space Station, which was launched in the late nineties and is operated by five agencies from the U.S., Russia, Japan, Canada and 22 collective European nations.
"I was pretty appalled that she would go that far.  I knew it was not okay," Worden said when she discovered what was happening.
McClain has denied these allegations, telling the inspector general's office in an interview last week that she was acting in routine by checking the family's finances to make sure they had sufficient funds to pay bills for their son.
McClain's attorney said she was just trying to keep up with their bills and "she strenuously denies that she did anything improper and is cooperating with the investigation" adding, "Ms. McClain had done the same throughout the relationship with Ms. Worden's full knowledge.  Ms. McClain continued using the password that she had used previously and never heard from Ms. Worden that the account was now off limits."
Sources:
NASA Astronaut Anne McClain Accused by Spouse of Crime in Space
NASA astronaut accused of stealing identity, accessing bank account of estranged wife while in space: report
NASA investigates the first allegation of criminal activity in SPACE: Astronaut is accused of accessing her wife's bank account from the International Space Station during their messy divorce