Attorney tracks down man who stole his identity to lure unsuspecting victims in a timeshare scam.
---
David Eaton, a Florida attorney, was the victim of a scammer who stole his identify.  The individual then began targeting timeshare owners desperate to sell their properties, calling people who had placed ads to sell their timeshares to tell them their property could be sold if they forwarded closing costs to the Eaton. Other scammers in the Tampa Bay scheme also posed as other lawyers or real estate professionals.
Eaton, a former prosecutor and now an estate planning lawyer, learned of the hoax several years ago when he got a call from the Florida Bar after a woman complained that she sent money to someone named David Eaton.  The bar concluded that his identity had been stolen and called him as a courtesy to let him know what had happened.  Then, in 2016, Eaton began getting calls from people who also had sent money "to him."  He ended up spending hundreds of hours speaking each caller and would then forward their information to police.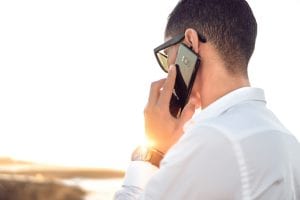 The man impersonating the attorney, Mark Boring, was finally caught after a woman wired $8,100 then spoke with Eaton about the transaction.  Eaton forwarded her information to authorities who put her in touch with the Federal Bureau of Investigations (FBI).  She agreed to help them catch the perpetrator.
The woman called one the of the numbers she was given by scammers and said she still wanted to sell. She was instructed to wire $800.  The wire went to a Tampa address and the man waiting for it was Boring.  Boring told law enforcement officers he had noticed Eaton's name on a sign.
Eaton was in court when Boring was sentenced for felony fraud and testified that Boring had exploited his name and reputation. "He zeroed in on his victims, most commonly women, most commonly elderly. I spent hundreds of hours listening to the poor souls," Eaton said.  After this testimony, he specifically turned to Boring and said, "God damn you!"
Boring pleaded guilty to conspiracy to commit wire theft and aggravated identity theft and was ultimately sentenced to 84 months in prison.  The court also ordered him to jointly pay $895,000 in restitution with two other defendants.  According to court documents, Boring's conspiracy caused nearly $900,000 in losses, but Boring himself received only about $75,000 from the scam.
A sentencing memorandum referred to the defendant as "a 47-year-old, nonviolent, first-time felony offender, with a long-standing and uncontrolled substance abuse addiction."  It reveals further, "After losing his employment as a legitimate timeshare salesperson and while struggling with his financial situation, Mr. Boring was recruited by a now deceased unindicted co-conspirator to participate in a scheme to defraud timeshare owners looking to resell their timeshares. Besides recruiting Mr. Boring, this now-deceased unindicted co-conspirator also recruited" the other participants.
This case was investigated by the Federal Bureau of Investigation, the St. Petersburg Police Department, and the Florida Department of Law Enforcement. It is being prosecuted by Assistant United States Attorney Rachel K. Jones.  The other defendants have also pleaded guilty to their crimes.
Sources:
Pinellas Man, (Mark Boring), Sentenced To Seven Years In Prison For Telemarketing Scam
Lawyer's identity stolen by scammer asking timeshare sellers to send money for closing