The ACLU of Massachusetts filed a lawsuit against the administration after Lillian Calderon–a Guatemalan native–was detained after a marriage interview.
---
A federal judge has ruled that a Guatemalan woman's class action lawsuit can move forward.
According to WPRI, the lawsuit initially had but five plaintiffs. But with Thursday's decision, other immigrants in New England can join the class, too.
Filed by the American Civil Liberties Union of Massachusetts, the complaint challenges the Trump administration's harsh anti-immigration policies. At the center of the suit is Lilian Calderon, a Guatemalan native, mother and Providence, Rhode Island resident.
Although Calderon came to the United States as a toddler, she isn't yet a legal permanent resident. She'd tried changing that early last year, seeking a marriage review at a Johnston immigration office.
While Calderon thought she was on the right path to becoming a citizen, she was detained by the Immigration and Customs Enforcement agency in January 2018 shortly afterward.  Facing deportation, she remained in ICE custody for a month.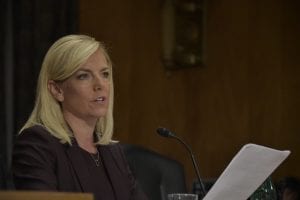 Only in February of 2018 was Calderon released, in large part due to the ACLU of Massachusetts' advocacy on her behalf—the organization, working with its counterpart in Rhode Island, argued that her detention was unconstitutional.
Calderon was released within a week, and in April of 2018, the ACLU and law firm WinterHale filed a class action on behalf of the woman and other migrants facing similar predicaments.
Along with Calderon and her husband, Luis Gordillo—a U.S. citizen—four other couples were included in the ACLU's original complaint. WPRI reports that all of the plaintiffs faced obstacles, arrest and the threat of deportation as they strove to acquire citizenship or legal residency.
The ACLU's website notes that, last August, a federal judge refused a government request to dismiss the lawsuit.
"Unsealed documents and depositions show the Department of Homeland Security (DHS), which oversees the USCIS and ICE, has used its own regulations – which were designed to protect the families of noncitizens from unnecessary separation during the legalization process—to target individuals for detention and deportation," the ACLU of Massachusetts wrote on its website.
The American Civil Liberties Union believes it's yet another instance of the Trump administration overstepping its boundaries, attempting to separate families trying to do the right thing.
"This class certification is about ensuring that families stay together," said ACLU-Massachusetts executive director Carol Rose.
But Calderon, who's been free for more than a year, still hasn't been naturalized.
"I'm trying to do the best I can, I'm trying to follow regulations," she wrote in a February 2019 opinion piece, published in The Providence Journal. "Here I am, still a year later, undocumented."
Throughout spring, Calderon has been stuck in a bureaucratic maze, denied the opportunity to seek employment, work or even drive.
"It's always a waiting game," her husband said. "As time gets closer, I guess you could say to the deadline, the anxiety builds up, the stress builds up because we don't know if we're going to be together."
But on Wednesday, Calderon's patience finally paid off—after a trip to Guatemala, a country she'd scarcely seen since childhood, the U.S. consulate granted her a visa to return home and pursue citizenship without the looming threat of deportation.
Sources
Federal judge certifies class-action lawsuit against immigration officials
Mother detained by ICE still waiting to become U.S. citizen
My Turn: Lilian Calderon: A year of fear under immigration law