If you are involved in any kind of health and fitness-related business, it may pay to look at developing fitness apps as a means of attracting new customers.
---
One of the 21st century's key advertising methods, app development, provides a seemingly passive advertisement each time a user opens the application. Once the purview of startups and computer developers, apps now provide a way for business owners to engage the general public and draw them into their establishment. Health and fitness apps provide the ideal entry point for a bevy of businesses, including gyms, personal trainers, health food stores, nutritional centers, athletic stores, and others. 
The apps run the gamut and you don't have to know programming to create one. Many development engines exist for Android and iPhone. Choose from workout app, fitness app, fitness tracker, activity tracker, health tracker, diet app development, nutrition app development, for a type to develop. While you should provide a free version, a health and fitness app can also provide you with an additional source of income. You can offer a pro version of the application for a small one-time fee like Fitstar's Personal Trainer does, or you can sell in-app content like Fitocracy. Another option is to include a store in the app like Pocket WOD or to use in-app ads. 
The Multitude of App Types
Your first decision is what kind of app to create. Would you rather focus on diet or fitness? Is health your overall focus or would your business rather attract more specialized users such as those tracking a specific activity, like walking? Would your customers respond more favorably to a fitness app or tracker or a workout app? Whether you provide it to existing customers or create it to draw in new users, you can determine what they really want by issuing a survey. Here's an introduction to your options. 
Personal Training apps
Personal trainer apps, or fitness apps, provided scripted workouts in various formats including illustrations, 3D models, text or video. You'll need to provide users with a bevy of preference settings so that they can customize the workout. This app type also requires difficulty levels. You can use this app type to get users started working out at home or in your gym. Most of these apps don't allow for customized routines created by the user. Within the realm of personal training apps, there's a great deal of variety, such as: 
Physcult, an app with a 3D model of the human body that lets users pick the body parts they'd like to train. The app provides videos of appropriate training exercises. 
Fitstar's Personal Trainer and GAIN Fitness offers training videos, coaching, and smart TV support. 
Codyapp offers similar content on yoga, as well as, smart TV support. 
WODBook provides timed CrossFit routines and organizing help for the user to better plan their workouts. 
Activity/Logbook Apps
An activity tracker or logbook app lets the user plan and track workouts. These can be interactive like Workout Book or a simple app to type in results or track sets using a dropdown menu. Some of these apps work with fitness devices such as Apple Watch. Others link apps to networked sensors in a smart gym. The NFC tags track activity by the equipment used. The sensors count reps and sets, then transmit it to the mobile app. One example is the Talos, an Android app that tracks workouts by sensor feed and provides an administrative panel for gyms. 
Another type of activity app logs everyday events of physical activity. This includes pedometers that track steps taken or general activity trackers that count stairs climbed. These tally the daily distance traveled and caloric burn. Others let a user track sleep hours and its quality or monitor physiological data like pulse rate or blood glucose level via a Bluetooth connection to a fitness tracking device. 
Gamification Apps
Gamification apps cover a large territory. They can take the guise of activity trackers or training apps. They serve numerous workout types including weightlifting, running, walking and yoga. These apps use game elements like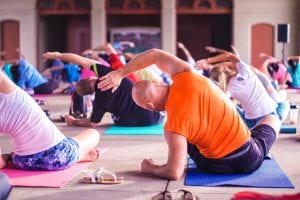 points, leveling and achievement awards to motivate exercisers or create a game out of the workout. The method for gamification varies: 
Fitocracy awards points and levels, plus social media sharing. 
Pocket Yoga lets users earn new training levels by completing lower levels. 
Pact has users sign a weekly pact to work out or eat healthier, then tracks the progress and pays money to successful users. 
Zombies, Run! plans a run or walk route for the user that corresponds to the game's mission to elude zombies. Each completed run or walk advances the user in the game. 
Charity Miles donates 10 to 25 cents per mile run or walked to the charity of the user's choice. 
Diet and Nutrition Apps
Some mobile apps help users track diet, calories, coffee and water intake. These apps visualize daily intake using text data and graphs like Swift does. The idea is to encourage the user to meet their goals of healthy eating and gaining or losing weight. The most successful apps offer calls to action to boost user participation. You can design it to make documenting food intake easy by providing a food index, dictionary, bar code scanner or word prompter. MyFitnessPal uses a bar code scanner, for example. 
Social Fitness Apps
Some apps use social media to motivate users and connect them with other exercisers. These go beyond the simple results of sharing to allowing users to create challenges and join competitions. Many of these apps offer Android and iPhone options which lets fitness buffs participate across multiple platforms. The app Strava enables users to compete with each other for the best time on runs or at bicycling. 
Combination Apps
Some apps try to do it all. They combine the fitness or tracker element with diet or nutrition. One example of this, MyFitnessPal, offers diet tracking plus a manual exercise tracker and fitness tracker. Nokia Health also attempts to serve the combination market. 
Some users prefer a simple, straightforward app that lets them track their favorite workout method over combination apps. One example of this, NoomWalk, counts daily steps walked. The user can add them to an online profile or keep them offline. 
Your business or startup can leverage the world of fitness and nutrition apps to attract more customers. The first step is determining what kind of app appeals most to your target audience. Build it for both major mobile operating systems, then advertise it. Helping others reach their fitness goals can help you reach new customers.