Acting Homeland Security Secretary Kevin McAleenan says it's better for families to stay together, even behind bars–and even when it can take months to get a decision from immigration courts.
---
The Trump administration is planning to discard the Flores Settlement, which helped create a "catch and release" policy for immigrant families detained in the United States.
According to conservative media sources, the new policy would allow migrant families to be held in detention together until their cases are heard by a judge. The rule would supersede and replace the conditions set in Flores, which mandates a 20-day maximum detention time.
An alleged "security expert" told the right-wing Washington Times that families held together can be deported—and once deportations increase, migration from Central America will decrease.
"Today the administration is closing one of the legal loopholes that has allowed human traffickers and smugglers to exploit our vulnerabilities at the southern border," an official told the Times.
"President Trump has made it clear that he's going to secure America's border at all cost [sic] and this rule plays a vital role in the strategy to restore the integrity to our immigration system and our national security," they added.
The Daily Beast­—which has criticized the impending change—says the Department of Homeland Security didn't respond to its request for comment.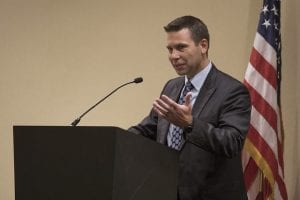 The Beast also recounts the history underlying the settlement. The longstanding policy is named after Jenny Lisette Flores, who fled to the United States from El Salvador in the 1980s. Flores was held by the Immigration and Naturalization Services, in the years before DHS and the Immigration and Customs Enforcement agency. Locked up among adults and in purportedly dangerous conditions, Flores sued.
The subsequent agreement created 'stringent standards' governing the detention of undocumented children in U.S. custody. Among the settlement's biggest stipulations is that children be released into the least restrictive setting possible after 20 days, 'with access to sanitary facilities, medical treatment and contact with family members.'
President Trump has long criticized the Flores Settlement and its conditions as a key driver behind illegal immigration. In fact, the administration's opposition to Flores' dictates may have driven the family separation crisis that occurred from about April 2018 through July of the same year.
Former White House Press Secretary Sarah Huckabee Sanders said in June that "the separation of illegal alien families is the product of the same legal loopholes that Democrats refuse to close, and these laws are the same that have been on the books for over a decade."
To close the so-called loopholes, the Trump administration has experimented with a variety of fixes. Along with separating families, it also floated a proposal to license ICE-run detention centers as guardians for undocumented children.
It's inevitable that this policy—if approved and put into action—will be met with litigation and widespread legal challenges. Several liberal lawmakers have already blasted the proposal as "inhumane."
Acting Homeland Security Secretary Kevin McAleenan claims the Flores reversal is somehow intended to be a benevolent alternative to existing practice.
"We don't want to change the provisions about conditions in our custody," he said. "We want to codify those provisions to maintain the highest possible standard.
"We want to keep families together through an immigration proceeding that's fair and expeditious in an appropriate setting," he added. "That can't be done in 20 days without due process."
And McAleenan is almost certainly right—it can't be done. A years-long case backlog practically ensures that most cases won't be heard for months, meaning children will spend far longer behind bars that anyone with a conscience might ever have predicted.
Sources
Trump Administration Launches Most Brazen Attack on Protections for Young Migrants
Trump moves to cancel illegal immigrant family loophole
White House expected to replace illegal-immigrant family 'loophole': reports