A man walks into a bar intoxicated, is served more alcohol, and kills his estanged wife and others later that night. The bartender is arrested.
---
Lindsey Glass, 27, a bartender in Plano, Texas, was arrested after she allegedly sold liquor to an intoxicated man, Spencer Hight, 32, who later shot and killed his estranged wife and seven other people attending a party at her home.  Police charged Glass, who had been working at the Local Public House during the September 2017 incident, with "violating a law making it a misdemeanor to negligently sell alcohol to a habitual drunkard or an intoxicated or insane person."
Hight killed Meredith Hight and seven other people at a Dallas Cowboys viewing party that night before police officers shot and killed him.  His other victims included Tony Cross, 33; Olivia Deffner, 24; James Dunlop, 29; Darryl Hawkins, 22; Myah Bass, 28; and Caleb Edwards, 25.  Hight's blood alcohol level at the time was four times the legal limit.
Meredith, 27, had previously filed for divorce after six years of marriage, but the divorce hadn't been finalized yet.  The victim's mother, Debbie Lane, said Spencer was a loving and devoted husband to her daughter at the beginning of their marriage, but she and her husband later noticed something was off.  When they visited, he would retreat to his room and his computer, and Lane learned he had a drinking problem.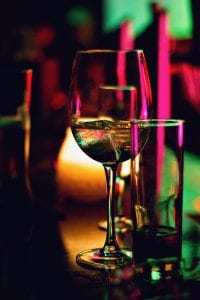 Surveillance video shows Glass selling Hight two gins, two beers, and a shot of alcohol during two separate visits to the bar.  Hight was "unsteady and spun a big knife on the bar."  He can also be seen in the footage "pulling out a gun from his waistband."  Glass was evidently aware of Hight's odd behavior.  She texted a co-worker that he had been spinning the knife and told her had had to go "do some dirty work."
The other bartender, a male, called an owner of the bar concerned, but was told he should not contact authorities.  The man also asked whether he should tackle Hight and escort him out, but the owner advised against it.  Glass followed Hight to his ex-wife's home and then called 911.  Glass's attorney, Scott Palmer, said, "It is shameful of the Plano Police Department to go after the person who was vital in trying to stop the horrific events of that evening."
The bar agreed to give up its liquor license without admitting to wrongdoing.  At the time, it was reported that as "part of its investigation, The Texas Alcoholic Beverage Commission (TABC) worked to determine if club employees violated state law by knowingly serving alcohol to an intoxicated person.  Investigators also examined evidence indicating that employees failed to notify police after Hight allegedly displayed prohibited weapons inside the bar.  By reaching the settlement with the Local Public House permittee, TABC is closing out its administrative case."   Families of the victims also dropped a lawsuit against the establishment, but they said they plan to refile.
"It's easy to take a horrific criminal act and associate it with an earlier crime," Jonathan Turley, a professor at the George Washington University Law School, said. "Glass may have had reason to know he was intoxicated; however, the charges seem to be an outgrowth of the homicide as opposed to the overserving of alcohol violation." He added that the case could be interpreted as an effort by the Plano police to hold someone accountable for the crimes.
Sources:
Man who killed estranged wife, 7 others had drinking problem
Bartender charged with selling liquor to intoxicated man who shot and killed 8 people
TABC reaches agreement with Local Public House permittee to cancel permit in wake of Sept. 2017 shooting at house party