One attorney slaps another attorney, one defendant slaps his attorney, another punches his attorney. It's more common than one might think!
---
Retired Houston, Texas, personal injury attorney Ronald "Ronny" Krist apparently slapped attorney Greg Enos at Enos' Webster, Texas, office on August 21 prior to a scheduled deposition.  Enos filed a lawsuit against him on behalf of a women who was contesting her attorney fees.  The 83-year-old Houston lawyer has been charged with misdemeanor assault.
Security cameras in the office captured everything on video.  The footage showed Krist shaking his finger and flailing his arm at Enos.  His arms made contact with the attorney and he was slapped.  Krist's son Scott, who represents his father in the litigation doesn't deny what happened, stating his father "slapped the shit out of him, and deservedly so."
Scott Krist claimed his father was in the right because Enos was being contentious during the litigation.  Before the blow, Ronny Krist warned Enos not to be disrespectful again or he would "slap the shit" out of him, and according to his son, when Enos didn't back down, that's exactly what happened.  Not surprisingly, Enos' side of the story is a bit different.  He said that Krist told him he would "kick my ass" to which Enos replied, "I would like to see that happen."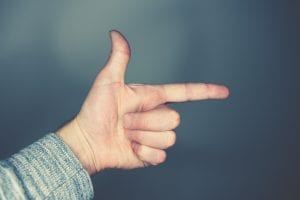 Enos' client felt she should not be required to pay Krist and two other attorney a contingent attorney fee of 45% on annuity payments she inherited from her deceased mother who had been fronting the fee for an annuity she was awarded in litigation related to her divorce.  The mother had already paid $6.5 million in attorney fees before her death.
Enos canceled the original deposition and moved it to a location at a courthouse where security guards are available in case things get ugly again.
This isn't the first time an attorney has been slapped, but it is more common for a defendant being sentenced to attack his or her counsel when they are not pleased with the outcome of a case.  In 2017, for example, a Richmond, Virginia man backhanded his attorney after receiving a 30-year prison sentence.
Jamhal Scott Blanks, 29 at the time, attacked his lawyer after he was sentenced to 65 years for holding a man hostage in the victim's home for five days and forcing him to make ATM withdrawals.  He also beat the 63-year-old victim and tied him up at night so he could not escape.  The ordeal began after the two met on Craigslist and had sexual relations.
Sharp's sentence was well above the recommended state sentencing guidelines, which called for a maximum penalty of just over 27 years in prison.  The judge indicated he "went above the guidelines because the abduction took place over several days and involved torture."
A woman who acted as Blanks' accomplice, Brianna Archie, was ordered to serve five years in prison.  Blanks faced additional charges of assault and battery after the courtroom incident.
In February of this year, Cleveland Attorney Aaron Brockler was also punched after his client, David Chislton, was sentenced to 47 years in prison.  He had turned to Chislton, he said, to tell him he would try to get his sentence reduced, and was abruptly decked to the floor, then bitten by the man.
"He was hoping to get under 20 years," Brockler said. "And I think, when the judge said 47, he just snapped, and I was the closest person to him, and he let it out on me."
Sources:
83-year-old Houston lawyer is accused of slapping the attorney who is suing him
Stafford man who backhand slapped attorney in courtroom facing more time
'He let it out on me': Man punches attorney after getting 47 years in prison