Pain physician practicing in Michigan and Ohio allegedly plots the murder of two attorneys.
---
Pain physician, 56-year-old Daniel Schwarz, who practices in Michigan and Ohio, was arrested and charged with conspiracy and attempted possession with the intent to distribute a controlled substance after discussing his plans to drug an attorney with fentanyl, according to a federal complaint.
The patient said the doctor told him he wanted to kill Madison Heights, Michigan, attorney Michael David McCulloch because he "represented a condo association in a civil suit that cost him $60,000," according to court documents.  Not only would he carry out this crime, but Schwarz planned to frame his own attorney in the suit by placing the fentanyl used in his vehicle.
"Believe it or not, this was one of the last cases I'm handling," McCulloch said, indicating he soon plans to retire, and adding, "What a way to go out."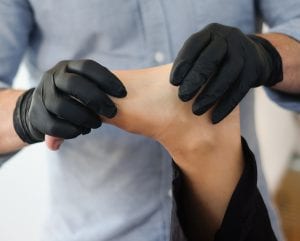 According to the arrest affidavit, Schwarz mention his plans more than once to the patient but changed them over time.  She said, at first, he wanted to know whether she could purchase a weapon with a silencer to kill McCulloch but switched to the fentanyl plan in which he wished to inject McCulloch with a fatal mix of fentanyl and Xanax.  He would do "brush pass" he said, in which an individual would inject McCulloch while bumping into him.
The patient met Schwarz while she was in drug recovery and the conversations occurred at a clinic in Findlay, Ohio.  She did not report intentions of the pain physician at first, because she thought he wasn't serious.  Only after Schwarz became more and more adamant about moving forward with his intentions did she realize he was serious.  At that time, she reported the conversations to police in Lima, Ohio.  Schwarz had agreed to pay the patient $2,000, instructed her to buy a throw-away phone and asked her to download an encrypted messaging app.  The FBI report said he also told her he would go by the alias "Dirk McBride" to carry out the plan.
According to the report, while under investigation Schwarz, at one point, said he had enough fentanyl only one of the victims, and the patient told him she could get more.  On August 22, the patient went to his office with a substance that appeared to be fentanyl.  Schwarz discussed putting the concoction in McCulloch's coffee and other ways in which he would administer the lethal dose.
At the patient's vehicle, Schwarz said he had just received a call and had learned an associate was willing to kill McCulloch for $10,000.  The associate, too, had a beef with McCulloch after a lawsuit was filed against his father.  Schwarz said the patient wouldn't need to participate in the plot, but he accepted the fake fentanyl anyway and was arrested.
Schwarz allegedly admitted to agents that he had discussions about kidnapping both attorneys and taking them to a secluded location where he would either burn them to death or inject them with fentanyl.  He had spoken of this with his patients.  Yet, the pain physician said he never had any concrete intentions to harm the men – they were just fantasies of his.
Schwarz's attorney, Michael Harrison stated, "Dr. Schwarz, my client, is not a dangerous individual.  He's a wonderful, gentle guy."
Sources:
Pain doc is accused of discussing plot to drug or kill opposing counsel whose lawsuit cost him $60K
Doctor facing murder-for-hire charges accused of trying to have attorney suing him killed