Prisoner wins acquittal representing himself in court after thirteen years behind bars.
---
Pennsylvania inmate, Hassan Bennett, who served almost thirteen years in prison on a murder charge won an acquittal after representing himself on appeal in a fourth trial.  Jurors deliberated for only 81 minutes before acquitting him of the 2006 shooting death of 19-year-old Devon English and the wounding of 18-year-old Corey Ford.  English and Ford were friends.
Prosecutors had claimed that Bennett plotted the crime after losing $20 to English in a dice game.  However, in representing himself, Bennett said he was "at home on the phone when he heard the gunshots and ran outside to investigate."  He had no direct contact to the victim at the time of the crime.
Bennett's first trial in 2008 ended in a mistrial due to jury tampering.  He was found guilty in his second trial the same year, but Bennett won a new trial based on his own appellate arguments on ineffective assistance of counsel.  The third trial in 2018 ended with a hung jury after Bennett represented himself.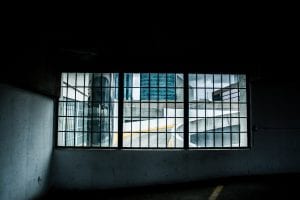 In the fourth and latest trial, which started in April, Bennett once again acted as his own attorney.  He wore his prison garb the entire time and said that despite being told he shouldn't, he didn't want to pretend he had been anywhere other than behind bars when he entered the courtroom.  He dressed each day in his powder-blue prison uniform with "DOC" written on the back.
"They told me not to wear a prison uniform.  I'm here in front of you in a prison uniform," the 36-year-old said during his closing argument. "They told me not to let you see my prison arm band.  I show you my prison armband.  They told me not to stand in front of you representing myself."
During that go-round, he argued that a homicide detective coerced statements from both Ford and a co-defendant who wrongly identified Bennett as the shooter.  The same detective has been accused of coercing witness statements in at least ten cases, lending some credibility to Bennett's statement.  Bennett noted that prosecutors didn't call the detective to testify, although Bennett called him to the stand himself to accuse him of wrongdoing.
Ford and the co-defendant recanted their statements at trial, and Bennett also submitted phone records to back up his story.  He was able to produce three witnesses in court who corroborated his testimony.  Bennett said that, when he began to represent himself in the appeal, he decided to learn law to ensure he was effective.  He studied in the prison library and received help from his cellmate.
"He was like my Yoda," Bennett said fondly.
During the 81 minutes it took for the jury to return with a decision, he was definitely antsy.
"I was sitting in the holding cell thinking, after five minutes, what's taking so long?" he said. "When the jury came in and they called me up, I already knew it was a not-guilty verdict."
Bennett said he's considering a legal career after his courtroom success.
"People from our neighborhood, from low-income neighborhoods, they don't really know the law," he said. "But see, there are people from the legal community that don't know about the low-income neighborhoods.  They don't know about 'the hood,' as they call it.  I am that bridge."
Sources:
Acting as his own attorney, Philly man is acquitted of murder after nearly 13 years in prison
Inmate who represented himself on appeal and in fourth trial wins acquittal on murder charge