A former teacher is suing Berkeley County School District over claims she was forced to resign for posted a Facebook video against face mask mandates.
---
A teacher in South Carolina who posted a Facebook video criticizing the use of face mask mandates filed a lawsuit this month claiming she was forced to resign as a result. To make matters worse, the teacher, Holly Chapman, alleges that Berkeley County School District officials "gave a reference that prevented her from being hired elsewhere." The lawsuit was filed on November 30 against the school district and its former superintendent.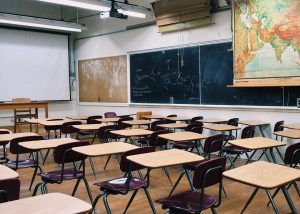 In the suit, Chapman said she worked for the district for more than "five years before she made a social media post in December 2020." She shared a video on her personal Facebook page "in which she expressed her political frustrations with perceived government intrusion with respect to COVID mask mandates and protocols," according to the suit. Additionally, the video included a "sexual innuendo in her speech as an analogy to government overreach, but the innuendo was not objectively explicit or obscene." Court documents note that "around the same time, her colleagues also engaged in posting sexual innuendo and speech of a sexual nature on social media but hadn't been punished."
During the COVID-19 pandemic, mask mandates have been issued across the country and have been at the center of many heated debates and discussions. When commenting on her video, Chapman said when she posted it, "none of her students were her friends on her Facebook profile, which was under a pseudonym and not her 'teacher name.'" However, by January 2021, a student found the video and allegedly posted a clip of it on Snapchat. From there, it was viewed by countless people and struck a nerve with some school officials, to the point where she was allegedly forced to resign in February 2021. Before posting the video, Chapman was an "award-winning teacher and had received no disciplinary actions at the district."
On top of that, the suit claims that when she applied for a teaching job at another school district, she "lost the opportunity after Berkeley County officials told the district that she had resigned in lieu of termination due to social media postings related to masks."
In addition to having Chapman resign, the former superintendent allegedly "told her a complaint would be filed against her, but the S.C. State Board of Education later didn't move forward because her speech outside of work on a matter of public concern was protected by the First Amendment." As a result, Chapman is accusing the district of "labeling her as committing conduct that was grossly immoral, because of her protected speech as a citizen on a matter of public concern."
Currently, Chapman is seeking $187,000 in damages.
Sources:
Teacher forced to resign over video criticizing COVID mask rules, SC lawsuit says
Former teacher says Facebook post on mask mandates cost her job, files lawsuit