Attorneys claim that Burger King's "Whopper" advertisements made the restaurant's signature sandwich appear far larger than it really is.
---
A federal judge has determined that Burger King must face a class action lawsuit alleging that the fast-food chain's advertisements misrepresent the true size of its signature Whopper.
According to USA Today, the lawsuit, first filed in March of 2020, claims that Burger King falsely inflated the size of its Whopper sandwiches in promotional materials.
Burger King, attorneys say, made Whoppers appear twice as large as they actually are, with burgers served to customers being an estimated 35% smaller.
"Burger King advertises its burgers as large burgers compared to competitors and containing oversized meat patties and ingredients that overflow over the bun," the lawsuit alleges.
"Although the size of the Whopper and the beef patty increased materially in Burger King's advertisements, the amount of beef or ingredients contained in the actual Whopper that customers received did not increase," it states, saying that Burger King "[materially overstates] the size of nearly ever menu item in its current advertisements."
Burger King has repeatedly asked the court to dismiss the class action, saying that any reasonable customer should know that restaurants style menu items to appear "as appetizing as possible" in advertisements.
Furthermore, the restaurant said that it is not, by law, legally required to serve burgers that look "exactly like the picture."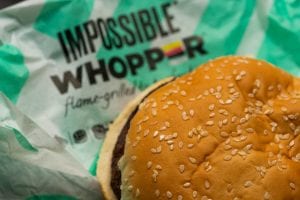 "BKC makes very clear how much beef the Whopper contains," Burger King attorneys have said.
"Plaintiffs do not and cannot contend that BKC delivered them less than a quarter pound of beef with any Whopper or Big King," Burger King said. "They argue, instead, that they 'expected' more beef, ostensibly because of the protruding patties in the pictures."
In a ruling made last week, U.S. District Judge Roy Altman agreed to dismiss plaintiffs' claims that Burger King's advertisements were misleading, as well as accusations that the company violated consumer protection laws.
However, Altman did find that other aspects of the complaint—including allegations that Burger King misrepresented its products, breach its contract, and profited from the aforementioned—could move forward.
Altman said that the court is not currently in a position to establish whether Burger King's advertising practices could have swayed otherwise reasonable customers, and that it would be best to "leave that determination to the consumers themselves, who—if the case survives that far—will get to sit in the jury box and tell us what reasonable people think on the subject."
Burger King has since reiterated its stance on the class action.
"The plaintiffs' claims are false," Burger King told USA Today in a statement. "The flame-grilled beef patties portrayed in our advertising are the same patties used in the millions of Whopper sandwiches we serve to Guests nationwide."
Sources
Burger King faces legal claim over size of Whopper
Burger King must face whopper of a lawsuit alleging burgers are too small, says judge