Assembly Bill 32 will outlaw private prisons in California. It'll also shut down ICE's biggest contractor facilities in the state.
---
On Wednesday, California legislators passed a bill that'd ban private prisons from operating inside the state. According to The Guardian, the proposal isn't limited to ordinary jails—it'll likely shut down four large detention centers.
Immigration activists and human rights advocates are hailing the move as major reform. While California used to rely on private prisons to reduce crowding, it's since backed down. The industry has taken flak from liberal lawmakers for years, with some of its leading players—including the likes of CoreCivic and GEO—accused of shaving critical services to maximize revenue.
The Guardian reports that private prison companies used to view California as a fast-growing market. As recently as 2016, some 7,000 California inmates were behind bars in corporate detention centers—an estimated 5% of the state's prison population.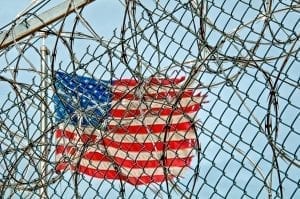 In less than two years, though, California reduced the number of detainees in private prisons by almost two-thirds. Even though the bill—known as AB32—has yet to be signed, California Gov. Gavin Newsom has voiced support for the ban. At his inaugural speech in January, Newsom asked lawmakers to "end the outrage of private prisons once and for all."
California Assemblyman Rob Bonta, who sponsored the bill, said the proposal was originally limited to contracts between the state's prison authority and third-party contracts.
However, Bonta changed the bill in June, extending its reach to encompass four Immigration and Customs Enforcement detention centers. And the timing is impeccable, at least for liberals keen to hit ICE where it hurts—the agency's contract with several private operators is due to expire soon. If ICE and its corporate partners can't work their way around Bonta's bill, they'll be forced to close shop.
The only major exception listed was added late last week—it gives California the power to renew or extend a contract 'if necessary to comply with [a] court-ordered population cap.'
Bonta says the amendments were made to turn the bill into something he thought the governor would sign and is "feeling very hopeful and optimistic" about the outcome. But Newsom's office has simply said that "the Governor will evaluate the bill on its own merits."
Hamid Yazdan Panah, an immigration attorney and regional director for the Northern California Rapid Response & Immigrant Defense Network, told The Guardian GEO may have been caught out.
"I think Geo Group [sic] is realizing their scheme to circumvent state law is putting them in a place where they could end up being nailed," Panah said.
Sources
California bans private prisons – including Ice detention centers
California bill would ban private prisons, ICE detention centers
Legislature votes to ban private prisons, sends bill to Newsom