Immigration activists are afraid the tent courts could violate migrants' rights.
---
The Trump administration's crusade against immigration is taking a strange new turn, with 'tent courts' springing up along the U.S.-Mexico border.
According to the New York Times, federal officials began operating tent-style facilities this week. They're scattered Laredo and a handful of other frontier cities, including Brownsville, TX, and Yuma, AZ. Designed to speed up processing and end long delays, the barebone courts intend to curb the flow of migrants into the United States by limiting how long asylum-seekers can spend in proceedings, deporting them before they can appeal.
Most of the tent-courts don't have bailiffs, gavels or any traditionally judicial trappings. Judges hear cases and render decisions by teleconference—a novelty federal officials have tentatively approved, provided migrants standing before the court have attorneys.
Many affected migrants won't even be allowed onto American soil to prepare. Due to the Trump administration's 'Remain in Mexico' program, most asylum-seekers will have to wait out their applications on the other side of the border.
It's something the White House says is for the greater good: keeping the burden of migrant maintenance off taxpayers' shoulders.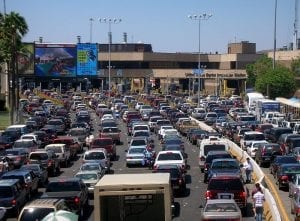 However, immigration attorneys have said they're afraid refugees and other migrants will be denied fair hearings. Ashley Huebner, an attorney with the National Immigration Justice Center, told The Associated Press she wasn't allowed to attend proceedings this Wednesday in Laredo.
"Attorneys aren't jumping to go in and solicit paying clients in these courts," Huebner said. "They want to ensure that people's due process rights are being protected, and there's no opportunity to do that."
Kennji Kizuka, speaking on behalf of Human Rights First, said the tent-court restrictions are a "due process nightmare."
"It is just another attempt to cover up flaws in this sham asylum process, a process create to block refugees from finding safety in the United States," Kizuka said.
Overall, the process is constructed to keep migrants out: the Times says it's part of a 'series of new measures designed to curtail the past year's surge in immigration by keeping many asylum applicants waiting outside the country, in Mexico.'
The Trump administration has explicitly said it hopes that making asylum-seekers wait in Mexico for their court cases to be heard—even if the hearing is inside a collapsible white tent—will serve as a deterrent.
"Until Congress can act with durable, lasting solutions, the rule will help reduce a major 'pull' factor driving irregular migration to the United States," said U.S. Citizenship and Immigration Services spokeswoman Jessica Collins.
Sources
'Tent courts' set up at border towns to ease strain on immigration cases
The Trump Administration's Latest Experiment on the Border: Tent Courts