Insurance can make auto accidents easier to bear. But, what happens when the at-fault driver is uninsured? There are still options worth pursuing.
---
Car accidents are unfortunately a common occurrence. While experiencing this type of accident is troubling, you might be relieved to know that your car insurance policy will ease the financial burden of any resulting vehicle damage or medical treatment. But, alarmingly, there are still a number of drivers throughout the U.S. without proper insurance. In fact, according to the Insurance Research Council, approximately 1 in 8 drivers do not have auto insurance. In states such as Oklahoma, Florida and Mississippi over 20% of drivers are uninsured. Often, in the case where an accident occurs and the driver at-fault is uninsured, the driver with insurance will be left to cover the cost of any resulting damage. This is why it's important to know how to proceed in this specific scenario.
After the Accident
Any car accident is stressful to deal with, especially when you're stuck thinking about what to do next. After you have confirmed the safety of yourself and your passengers, it's important to assess the damage to your vehicle and talk with the driver responsible for the accident. If you discover that the driver at-fault is uninsured there are a few options to help handle the situation.
Firstly, when dealing with an uninsured driver, it's always a good idea to call the police, since a police report can help ensure a smoother claims process. It's also important to note that not all accidents will be cut and dry so police involvement can actually help you clarify fault in your motor vehicle collision. 
Secondly, you should still swap information with the uninsured driver since you will need their contact and vehicle details in order to make a claim. Finally, an essential step in this process is noting the location of the accident, the model of the car involved as well as taking pictures of any damage. These steps will come in handy when filing a claim.
Insurance Claims
Due to the high rate of uninsured drivers throughout the U.S., many insurance companies now offer Uninsured Motorist Insurance. Adding this type of coverage to your existing policy will help guarantee that you are reimbursed for the amount the uninsured party would have paid if they had insurance. Some companies call this Uninsured Motorist Property Damage Coverage and as the name suggests, it only covers damage to your vehicle and not injury, so make sure you check which one your policy includes.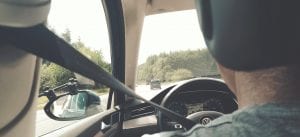 Alternatively, if you have collision coverage under your insurance policy, the damages sustained to your vehicle will be covered. However, it's important to note that this type of coverage will not cover the cost of any medical treatment or injuries sustained through your accident. 
Also, it's important to note that where you live will also influence whether your car insurance company will compensate you for personal injuries. Certain states have complex rules surrounding this issue so talking to an attorney who specializes in auto accidents may be a good step here.
Filing a Lawsuit
Depending on the laws in your state, you may have the option to file a lawsuit against the uninsured driver. If you live in a state that follows traditional tort laws, you can choose to receive compensation in the form of assets from the driver at-fault. These assets can include the uninsured driver's savings or a portion of their future earnings. While the legal avenue is a valuable option to consider, there is also a chance that the uninsured party does not have many assets. Unfortunately, in this instance, even with legal help you might not be able to recover damages.
Furthermore, if your state is legislated by no-fault insurance principles, you may not be able to file a lawsuit at all. In no-fault states, each driver is responsible for their own individual damages and injuries, regardless of who was at fault. In these cases, unless you have sustained serious injuries, your ability to sue is restricted. 
If Death Has Occurred
It is important to note that claims can still be made against uninsured drivers who have been killed as a result of an accident. Similarly, if you die as a result of an accident, your family may be able to claim on your behalf or file a wrongful death suit.
To sum up, if you are involved in an incident where an uninsured driver is at fault you should still report the incident with your car insurance company. This report will allow you to find out how and if your pre-existing coverage will apply to this situation.