GEO Group–along with other private prison contractors–has been repeatedly accused of providing sub-par services and violating detainees' rights.
---
Immigration detainees are suing GEO Group, claiming the for-profit prison contractor treated them as a "captive" workforce, making inmates labor for as little as $1 per day.
The South Florida Sun-Sentinel reports that the U.S. District Court in Central California certified the case as a class action earlier this week. Burns Charest, the firm leading proceedings, told media that a trial will be set in June 2020.
In a deposition given last month, inmate and class action participant Abdiaziz Karim recalled his stay in a U.S. Immigration and Customs Enforcement facility in Adelanto, California. That particular detention center, notes Mother Jones, was operated by GEO Group under federal contract.
Karim says he was sleeping in a recently-constructed dormitory for detainees when he was awakened by GEO officials. A guard pointed out graffiti on a wall and a dirty light fixture, instructing Karim to clean both.
However, Karim protested—he'd comet to the United States to ask for asylum. He'd neither been adjudicated of an immigration offense or been given a deportation order.
But Karim's reluctance to cooperate angered the GEO guard.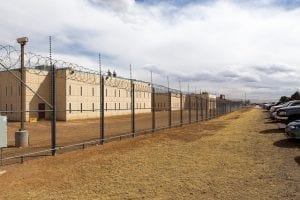 "He said to me he would write me up, or I'm going to go to segregation or if I don't clean this, it will affect my case," Karim said in court last month, explaining that he relented only after being coerced. "Because I realize that if I don't do those things, it will affect my case. I was not going to get bond. I was not going to get released."
Karim's story, and others like it, aren't uncommon. Private prison contractors—and especially the GEO Group—have often been accused of using immigration detainees as cheap labor. GEO is facing numerous, related lawsuits across the country.
For instance, another California class says that GEO violated California's minimum wage statutes by paying inmates as little as $1 per day. Two others, meanwhile, claim that GEO compelled detainees in Adelanto to work against their will.
Another lawsuit, also a class action, seeks to obtain a court order ending GEO's forced labor practices at 12 of its holding facilities nationwide.
The recently-certified class action in Adelanto accuses GEO of "system and unlawful wage theft." The Sun-Sentinel notes that the suit, first filed in 2017, contains a comprehensive list of all the work assignments "available' to inmates. They include postings in GEO's cafeterias, laundries and janitorial services, as well as more specialized placements in prison barbershops and medical units.
GEO stresses that positions are only obtained by migrants who wish to work.
A company spokesperson told the Sun-Sentinel that, in the ICE detention center it administers, work programs are "strictly voluntary." GEO further said that what wages it pays are follow "long-established guidelines" set by Congress.
However, the Adelanto class action claims that detainees who try to opt-out of GEO's work programs face "interference with their immigration cases, solitary confinement, or punitive housing reassignments."
A 2018 inspection by the Department of Homeland Security found that, in many cases, GEO inmates were "wrongfully" segregated and illegally denied visitation rights.
Sources
Detained immigrants forced to work for $1 a day, lawsuit claims
A Judge Says Thousands of Detainees May Sue a Prison Company for Using Them as a "Captive Labor Force"