Attorneys general for both states claim the border wall neglects their sovereignty.
---
The attorneys general of California and New Mexico are asking a federal judge to permanently block President Trump from diverting earmarked military funds to his long-promised border wall.
In a complaint filed Thursday, lawyers for both states asked Judge Haywood Gilliam to issue an injunction against the Trump administration. California and New Mexico would each receive tracts of enhanced border fencing, which the attorneys general claim could cause irreparable environmental damage.
Furthermore, neither state claims to want the president's wall—a wall which they say may infringe upon their states' autonomy.
The filing, reports The Hill, notes that "Gilliam found in a prior ruling that states seeking to stop Trump from using military funds for a border wall are likely to win their lawsuit."
Thursday's motion, adds The Hill, relates to $2.5 billion in funding that Trump has trapped for the border barrier. However, that money was initially reserved for Department of Defense spending.
The issue of appropriations has come up repeatedly in other complaints, too—in a lawsuit filed by the House of Representatives, Democratic legislators have claimed that the commander-in-chief lacks authority to reshuffle public funds already dedicated by Congress.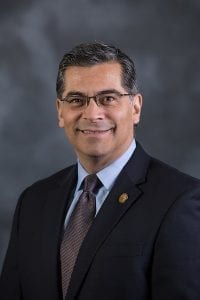 The two attorneys general are opting for a similar line, arguing that the "transfer and use" of earmarked funds is illegal.
"California and New Mexico both request that this Court declare that the transfer and use of DOD funds toward Defendants' proposed border wall is unlawful and unconstitutional," the filing states, later urging Gilliam to issue a prompt and permanent injunction.
"Absent an injunction, [the Trump administration] will be unconstrained in their bypassing of the States' environmental laws and regulations in constructing border barriers, infringing California's and New Mexico's sovereign interests in enforcing their laws," the filing says. "This sovereign injury is in and of itself sufficient to establish irreparable harm."
The brief goes on to suggest that each state's environmental regulations are threatened by the Trump administration's supposed executive over-reach.
"In addition, California and New Mexico would suffer irreparable harm to their natural resources and wildlife protected by those laws. Finally, as the court has already held, the balance of the equities and public interest favor enjoining [the Trump administration's] unlawful conduct."
Political analyst Meredith Levin told Fox5, based in San Diego, how state and federal takes on the environment sometimes differ.
"The federal government sets a floor of what environmental laws are," Levin said. "States have the right to go above that floor that the federal government has set. They can't go below it but they can have more stringent requirements if they want to.
"And if they're saying the federal government doing this is infringing on their rights as sovereign states and its [sic] going to interfere with their own environmental laws."
The Hill adds that Gilliam emplaced a preliminary injunction against Trump's use of Department of Defense Funds—the Justice Department is requesting an expedited appeal against the decision, just as House Democrats are appealing their own suit's recent dismissal.
Sources
California, New Mexico ask judge to block Trump from using military funds for border wall
California, New Mexico file lawsuit trying to stop border wall
Federal Judge Blocks Part of Trump's Plan to Build Border Wall
Judge Dismisses House Democrats' Suit Against Border Wall as Progressives Prepare Appeal