The neo-Nazi website's founder, Andrew Anglin, purportedly fabricated tweets portraying Obeidallah as a terror "mastermind."
---
A federal judge has ruled that a neo-Nazi website called The Daily Stormer must pay comedian Dean Obeidallah $4.1 million for falsely portraying him as a terrorist.
According to National Public Radio, Obeidallah attracted the Stormer's ire in 2017. In writing a piece for the Daily Beast, Obeidallah questioned and criticized President Donald Trump's lackluster response to white supremacist violence.
"Trump refuses to call these acts what they are: white supremacist terrorism," Obeidallah wrote.
The next day, notes NPR, the Stormer retaliated—the site's founder, Andrew Anglin, accused Obeidallah of being the "mastermind" behind a suicide bombing that killed 22 people at an Ariana Grande concert in Manchester, England.
"[Anglin] fabricated tweets that made it look like I was tweeting – that I was the mastermind of the bombing, I was cheering for it and I did it in the name of Allah in my faith as a Muslim," Obeidallah told NPR. "They looked exactly like real with [sic] retweets and likes and then [he] directed his readership at The Daily Stormer to 'confront' me [sic] was the exact term."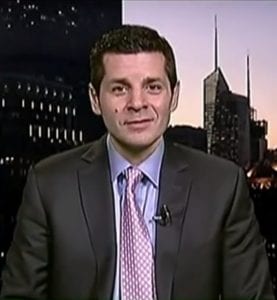 Stormer fans responded to Obeidallah with vitriol, sending him "graphic" death threats.
"It was scary," Obeidallah said Sunday "It was really scary, and I was worried for my friends. I was worried for my coworkers."
"They clearly though I was a terrorist," the comedian said.
However, it might be difficult collecting millions from Anglin, whose current whereabouts are unknown. Nonetheless, Obeidallah says he plans to pursue the Stormer founder's assets in the United States.
"We want to collect some money because that's a more powerful message than just a judgment on paper," Obeidallah said. "We're going to give it to organizations that fight white supremacy, run by the very people these guys hate, like Muslims, African-Americans, Jewish Americans and the L.G.B.T.Q. community."
An attorney for Obeidallah said it might be possible to collect the judgment from some of Anglin's digital assets, including the racist's Bitcoin wallet.
Whether he gets the money or not, Obeidallah said the pay-out won't make up for the threats and an unpleasant two years.
"As a Muslim being attacked with the worst anti-Muslim trope you can say, is that I'm a Muslim, I'm a terrorist," Obeidallah said in an interview. "It was painful to have friends and family express concerns. It was painful to contact security at the Daily Beast and my radio channel to say, 'Hey, we might be visited by white supremacists coming to kill me and they might kill innocent people I work with.' That was all horrible."
Sources
Comedian Wins $4.1 Million in Lawsuit Against The Daily Stormer
Dean Obeidallah Wins $4.1M In Defamation Suit Against Neo-Nazi Site