The lawsuit was filed on behalf of the senator by her daughter, Katherine Feinstein, who claims that trustees are withholding payments to benefit the California politician's other children.
---
Sen. Dianne Feinstein has filed a lawsuit asking a court to dismiss trustees from her late husband's estate, claiming that they breached their fiduciary duty by committing financial fraud and abuse.
According to USA Today, Sen. Feinstein's husband, Richard Blum, passed away last year.
Decades earlier, in the 1990s, Blum established a trust, which named his wife—the long-serving California senator—as a beneficiary. It was required to be funded with an estimated $5 million in cash and other securities.
Sen. Feinstein received income from the trust, disbursed in the form of "frequent" installments.
However, Sen. Feinstein and her family now claim that the estate's trustees—Michael Klein, Marc Scholvinck, and Verett Mims—have neither funded the trust nor disbursed any required payments.
"Although Blum died more than a year and one-half ago, the Trustees have still neither funded the Marital Trust nor made any of the required income distributions to Senator Feinstein," the lawsuit alleges.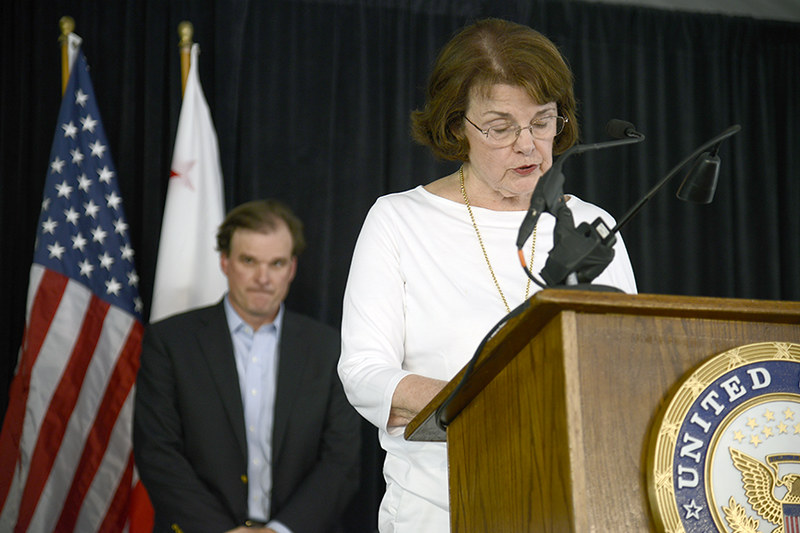 USA Today notes that the lawsuit was filed by Feinstein's daughter on the senator's behalf.
Feinstein's daughter, Katherine Feinstein, has "limited durable power of attorney" over her mother's affairs.
"The Trustees have committed financial abuse of Senator Feinstein […] by wrongfully withholding distributions to which the RCB Trust entitles her in bad faith and diverting assets that they should have used [to find the trust]," the lawsuit alleges.
Attorneys for Sen. Feinstein and her daughter have said that the trustees are deliberately withholding payments for the benefit of the 90-year-old senator's other children.
"The Trustees' inaction shows that they intend to benefit Richard Blum's daughters, who stand to inherit millions of dollars that should go to Senator Feinstein if the Trustees never make the required distributions to her," the complaint claims.
"The Court should suspend and remove the Trustees for breaching their fiduciary duties, including their duties of loyalty and impartiality," it says.
However, Steven Braccini—an attorney for two of the name trustees—has since said that the lawsuit is meritless.
"The trustees have acted ethically and appropriately at all times," Braccini said.
"This filing is unconscionable," he said. "The trustees have always respected Senator Feinstein and always will. But this has nothing to do with her needs and everything to do with her daughter's avarice."
The lawsuit states that Feinstein "incurred significant financial expenses" as a result of a recent, months-long hospitalization.
While attorneys for Feinstein and her daughter say that the trustees refused to authorize payments to cover the cover the costs of the senator's care, Braccini claims that his clients "never denied any disbursement to Senator Feinstein, let alone for medical expenses."
Sources
California Sen. Dianne Feinstein alleges financial abuse in lawsuit over her husband's estate
Lawsuit claims Sen. Dianne Feinstein is the victim of financial elder abuse
Sen. Dianne Feinstein claims 'financial elder abuse' in lawsuit over husband's estate