Woods spent 35 years in prison for a murder she didn't commit–time taken by a confession which was coerced by detectives while Woods was committed in a psychiatric hospital.
---
Cathy Woods, the longest-serving wrongfully convicted woman in American history, is suing Nevada. According to The Associated Press, the 68-year old woman could receive up to $3.5 million under a state bill passed and signed earlier this year.
Woods, says the A.P., filed the lawsuit on Tuesday. She spent 35 years behind bars for the 1976 murder of a Reno college student. Arrested in Shreveport, Louisiana, in 1979, she remained imprisoned until just under four years. She was exonerated only after evidence from a "crime-scene cigarette butt" was linked to another inmate serving time in Oregon.
That inmate—who's linked to two other murders—is already serving a life sentence.
The new evidence led to Woods' exoneration. And because of a recently passed law—Assembly Bill 267—she may be liable for some recompense.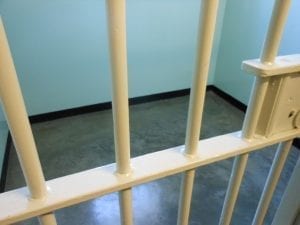 Under the bill's provisions, inmates who've been wrongfully convicted can sue the state. If they're successful, they can receive a certificate of innocence and officially have their records cleared. Monetary awards are variable, depending on how long an individual spent behind bars. Inmates incarcerated for 20 years or more are eligible to receive $100,000 for each year they served.
The Review Journal notes that Woods has another ongoing lawsuit. Filed in 2016, it alleges officials in Louisiana and Nevada committed civil rights violations in making their case against her. The complaint also details aspects of malicious prosecution. That's because authorities purportedly extracted a confession from her at a mental hospital, without any lawyer present for questioning.
Police only zeroed in on Woods as a suspect after a counselor tipped them off about a woman who claimed to 'remember something' about a stabbing in Reno. That's despite the fact that Woods had been committed by her own mother and was a diagnosed schizophrenic.
Woods, says the Review Journal, only knew "vague information about the crime that had been publicly reported." Detectives who'd traveled to Shreveport ensured she wasn't able to access counsel, all while promising "that things would go 'quicker' and easier if she did not have an attorney."
Attorneys for Woods told the Review Journal in 2016 that their client remains extremely vulnerable.
"She was an extremely vulnerable person at that time and today," attorney Elizabeth Wang said in 2016. "Anyone who sees her would see what 35 years in prison did to her."
Woods' wrongful imprisonment lawsuit may prove the first test for Assembly Bill 267, if not the last. Woods is one of 13 Nevadans who've been exonerated, as well as the longest-serving wrongfully convicted woman in U.S. history.
Sources
Exonerated woman sues Nevada, could get $3.5M under new law
Exonerated woman sues Nevada, could receive $3.5M
Longest-serving wrongfully convicted woman sues Nevada
Woman exonerated in 1976 Reno murder sues Nevada, Louisiana officials