The lawsuit hopes to force Illinois into enforcing existing gun control regulations and, possibly, implementing new ones.
---
A federal judge has given the green light to victims of victims of gun violence filing a lawsuit against the city of Chicago.
The suit, says the Chicago Tribune, is designed to pressure Illinois into passing tighter gun control laws. It was filed last year on behalf of children who've developed trauma from neighborhood shootings.
According to the Tribune, most of the plaintiffs are from Austin, one of five predominately African-American communities in Chicago that've borne the burnt of gun-related violence.
Since its inception, Illinois has petitioned the courts to dismiss the suit. However, the state's argument was shut down on Monday. In a 34-page decision, U.S. District Court Judge Joan Gottschall denied the motion for the dismissal. Gottschall will allow the plaintiffs to make their arguments, many of which the Tribune says are novel. They include accusations that Illinois, by refusing to clamp down on gun sales and weapons trafficking, is violating the Americans with Disabilities Act and the Illinois Civil Rights Act.
Violence, says the lawsuit, has caused irreparable "cognitive and emotional disabilities in children." The "disparate impact" of shootings has mostly affected minority-majority communities.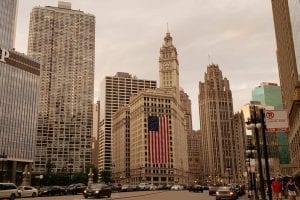 In her decision, Gottschall said the suit contains enough statistical evidence to proceed.
"It is reasonable to infer that the concentrated violence begets trauma and the psychological and behavior injuries described in the complaint," she wrote, "creating discrete pockets of predominately African-American individuals disproportionately likely to be harmed by ongoing exposure."
Gottschall did note that many firearms used in Chicago crimes aren't purchased in the city itself. Nevertheless, she said the lawsuit has no obligation to address "every injury."
"The complaint adequately alleges that the injunctions plaintiffs seek would appreciably diminish the rate of gun violence in Chicago's predominately African-American neighborhoods," she said.
Tom Johnson, an attorney for the plaintiffs, said he's pleased with the outcome. Gottschall's decision will give him and his clients a chance to use the courts as a means to enforce existing firearms laws and, potentially, consider other, more effective measures.
"The big issue in this case was whether the court would let us pursue them, and she very clearly did," Johnson said. "We are happy. We are very happy."
The Tribune adds the suit was filed under the administration of former Illinois Gov. Bruce Rauner.
Since taking office, Gov. Pritzker has signed legislation requiring greater oversight of firearm dealers. However, the law has yet to take effect, and some of its finer details remain murky.
All in all, the Tribune says its investigations have shown that Illinois' current firearms regulation and tracking systems are inadequate. Many gun owners who've had particular registration permits revoked never return their weapons, rendering the system open to broader misuse.
Sources
Black Children Exposed to Chicago Gun Violence Advance Bias Suit
Judge: Victims of Chicago violence can proceed with lawsuit seeking tighter control of gun sales