The village of Canton recently came under fire in a new lawsuit over allegations that it's zoning rules discriminate against religious organizations like the Christian Fellowship Centers of New York, Inc.
---
The Christian Fellowship Centers of New York, Inc. recently filed a suit against the village of Canton over allegations that the "village's zoning rules violate a federal law that prohibits discrimination against religious institutions." Filed on February 11 in the U.S. District Court, Northern District of New York, the 25-page lawsuit argues the zoning code in the village is "faulty because it allows unequal treatment of religious assemblies and, in particular, the CFC."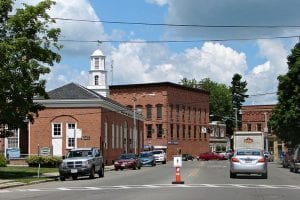 According to the zoning code, churches are prevented from operating within a Commercial-1 district. Instead, churches are only allowed in the "Residential-1, Residential-2 and Business-1 districts." However, "nonreligious assembly uses, such as theaters, pool halls, hotels, municipal buildings, museums and uses described as fraternal/social clubs/education/charitable or philanthropic are permitted in the zone," according to the suit. It further states:
"The village's zoning code treats religious assemblies on unequal terms with nonreligious assembly uses in violation of the equal terms provision of the (federal) Religious Land Use and Institutionalized Persons Act."
The suit further alleges the village denied the Christian Fellowship Centers (CFC) use of The Club, "a former restaurant/tavern at 25 Court St., for church services because churches aren't listed as an allowed use in the village's Commercial-1 zone." To make matters worse, the CFC bought the building earlier this year before it knew of the strict zoning laws.
In addition, the lawsuit argues the zoning code places "limitations on religious assemblies," and states:
"The village's actions have further imposed a substantial burden on the church in violation of RLUIPA and continue to unlawfully restrict the church's free exercise of religion and freedom of speech as protected by the First Amendment to the U.S. Constitution."
So how have village leaders responded to the lawsuit? For starters, Michael E. Dalton, the mayor of the village, said he and other officials and members of the Planning Board and Zoning Board of Appeals, "have been advised not to make any public comment about the situation now that legal action has been taken." Dalton added,
"Everyone's been told this is a legal matter now and not to say another word to anyone. There's a lawsuit pending and I won't make any comment. It's in the hands of our attorney."
Jamie Sinclair, the Pastor of Canton CFC, has yet to respond to requests for comment and is referring all questions to John W. Mauck, one of the attorneys representing the church. The other two attorneys include Sorin A. Leahu and John Collins.
Sources:
Lawsuit accuses village of Canton of religious discrimination
Local church plans to sue Village of Canton over zoning fight