The 4th Circuit Court will revisit one of its past decisions.
---
A federal appeals court will revisit an emoluments lawsuit accusing President Donald Trump of using his office to profit off a luxury hotel in Washington, D.C.
The 4th Circuit Court of Appeals agreed on Tuesday to holding a hearing before its full panel of 15 judges, with arguments scheduled to begin in mid-December.
According to CBS News, the lawsuit claims that Trump is in violation of the emoluments clause of the U.S. Constitution. Specifically, the plaintiffs—Maryland and the District of Columbia—say that Trump is illegally accepting profits from domestic officials and foreign diplomats who stay at a Trump-branded luxury property in the capital.
Nearly 200 members of Congress have filed similar lawsuit against the president, most involving Trump International Hotel in D.C.
Financial revenue reports, partially recounted by CBS, show that Trump's property earnings aren't insignificant. In 2018 alone, he made more than $100 million from his hotels and resorts—including $40 million from Trump International in D.C.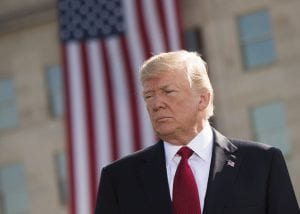 Liberal lawmakers and other Trump opponents have frequently accused Trump of directing his political partners and allies to make use of his properties. The House Oversight Committee has obtained documents showing that the Department of Defense has spent hundreds of thousands of dollars at a Trump golf course in Scotland. Likewise, Vice President Mike Pence stayed at a Trump-branded hotel in Ireland—even though it was 180 miles away from his meeting in Dublin. Trump is also hoping to use his Doral, Florida, resort as the next meeting place for G-7.
And in December, CBS says, Attorney General William Barr has already made plans to host a $30,000 holiday party at Trump International.
While lower courts had allowed the lawsuit to progress, it was stopped dead by a three-judge panel from the 4th Circuit in July. Collectively, they called the case weak and said there was no reason to think Trump's particular ownership of a hotel competed with local convention centers. Furthermore, the judges said that the plaintiffs had no way of showing how any such competition—whether it exists or not—could be legally prevented.
All of the judges on that panel, says CBS, were Republicans. The decision to reopen the suit will let the 4th Circuit's entire panel weigh in.
"Today's decision by the Fourth Circuit granting the District of Columbia and Maryland a rehearing in our anti-corruption case against President Trump is significant," said D.C. Attorney General Karl A. Racine and Maryland A.G. Brian E. Frosh in a joint statement. "We look forward to arguing our case before the full panel to stop President Trump from violating the Constitution and profiting from the presidency."
Sources
Appeals court reopens Trump hotel lawsuit
Appeals court revives Trump emoluments lawsuit