The City of Atlanta has reached a settlement in a lawsuit involving a collision with a police officer that caused a woman to have her arm amputated.
---
The city of Atlanta has reached a $500,000 settlement with a woman who lost her arm in a motor vehicle crash involving an Atlanta Police officer.  Lisa Williams filled a civil lawsuit against the City of Atlanta in June 2018 alleging 27-year-old Atlanta Police Department officer Dejoira Phillips slammed her patrol car into the side of Williams' vehicle as Williams drove through an intersection on February 21, 2018.
The lawsuit states Williams had a green light at the time of the collision and Phillips had a red light.  It is unclear what evidence the filing includes to support this.  Williams had to have her arm amputated after the incident.
Last February, on Peeples Street and Ralph David Abernathy Boulevard, Phillips was responding to a 911 call when she ran a red light and struck the car driven by Lisa Williams.  Officer Phillips was in a marked patrol car at the time and her emergency lights were in use.  Police say a building obscured the view of both drivers, they were unable to see each other at the time and both vehicles were totaled in the crash.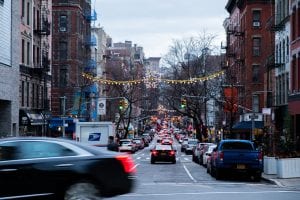 Emergency paramedics responded and rushed both drivers to a nearby hospital where physicians were unable to save William's left arm.  She sued for damages to cover her medical expenses and for pain and suffering, and the Atlanta City Council Public Safety Commission approved the $500,000 settlement this month.
Williams said everything about her life has changed since that night and she is not only suffering financially because of it, but mentally and emotionally as well.  She can no longer perform her duties as a safety engineer and has issues performing basic functions at home.  "I can't cook.  I can't put my clothes on.  The way I'm looked at in public…there are so many mental and psychological things I'm also facing," Williams said. "Everything has changed for me.  I'm just not the same."
Also, this month, Officer Phillips was indicted on criminal charges in the accident.  The Fulton County Grand Jury indicted Phillips on four charges, including two felonies and two misdemeanors.  The felony charges include serious injury by vehicle and violation of oath of office.  The misdemeanors charges involve failure to obey traffic control device and reckless driving.  It is unclear what the penalties will be if she is convicted on all four counts or whether the officer will spend any time behind bars.
Atlanta Police said the department is "gathering information regarding the indictment and charges."  It has yet to specify what information it is reviewing or whether it is actively investigating the details of the occurrence.
While the investigation is underway, the police officer has been suspended with pay.  She will remain in this state until she is able to attend a hearing before Police Chief Erika Shields.  At that time, Chief Erika Shields will decide whether Phillips can return to work or must remain on suspension, without pay, until case is heard by a judge.
Sources:
Atlanta reaches $500K settlement with woman after crash with police cruiser
Atlanta reaches $500K settlement with woman who lost arm in crash
Atlanta Officer Charged in Wreck That Led Driver to Lose Arm