Collaboration in a law firm puts the needs of the clients and the firm above the personal needs of individual attorneys. This often results in increased effectiveness and client service.
---
Collaboration lays the groundwork for a client-centric firm culture. When everyone works toward a common goal, the firm (and everyone within it) performs better.
But attorneys are competitive by nature. Without guidance, some lawyers take friendly competition too far, throwing others under the bus for their own gain and neglecting the best interests of clients and the firm. To improve client outcomes, increase retention, and boost office morale, firms cannot allow rogue attorneys to place their own interests above everyone else's.
Avoid the pitfalls of a hostile work environment by fostering a collaborative atmosphere that allows for competition without rewarding lawyers who outmaneuver their teammates. That's easier said than done, but with the right leadership and processes in place, you can transform your firm into a client-focused operation with better long-term prospects.
Research shows that collaborative law firms generate more money and enjoy stronger relationships with their clients. Our firm has achieved tremendous growth by seeking and sharing diverse perspectives. By working together, we drive better client results than any of our individual attorneys could achieve alone.
Follow these best practices to create a more collaborative culture in your firm:
1. Redesign the culture.
A culture that rewards selfish attorneys can't switch to being collaborative without direct input from leadership. Build an environment where the success of the firm matters more than the success of the individual.
Change your compensation program to discourage lawyers from bending the rules to their benefit. Firms typically judge the performance of individual attorneys by measuring the hours they bill and the number of new clients they onboard. This incentivizes lawyers to spend more energy attracting new clients and less energy achieving good results for existing clients. Adjust incentives by rewarding attorneys more for improved client outcomes and helping achieve firm-wide goals.
2. Identify and adopt better tools.
Technology makes collaboration easier, especially among siloed departments. Find and implement tools to help your firm break down barriers that prevent seamless cooperation.
Today's smarter tools offer a wide range of benefits. AI-powered software allows lawyers to analyze research and prepare for cases more quickly. Client relationship management software, commonly viewed as a sales tool, helps everyone in the firm put client outcomes above all.
We use Salesforce to encourage employees in different departments to communicate
with one another. By leaning on software for scheduling and other administrative tasks, lawyers get to spend more time working on what they do best. Meanwhile, support staff know exactly where cases stand, so they get to provide better service to clients.
3. Keep your staff updated.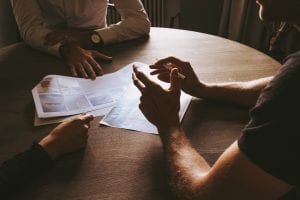 Host collaborative management meetings regularly to talk about every facet of your firm. Invite everyone, not just managers, to make the people within your firm feel more connected to your mission and more invested in your shared success.
We hold weekly meetings to inform staff of our progress on objectives. Whether you meet weekly, monthly, or quarterly, make it clear that everyone is welcome to attend.
Don't make these one-way conversations. Solicit feedback from your lawyers and staff to prevent issues from going unnoticed. If your firm employs too many people to open the floor for questions, ask employees to submit their questions in advance, then answer those questions in front of the group.
4. Hire people who enjoy teamwork.
The best way to avoid problems with lone wolf lawyers is to hire people who enjoy working as part of a team. When interviewing prospective new attorneys, ask candidates about their views on collaborative work environments.
Some people prefer to work alone, and that's not necessarily a bad thing. Instead of turning away every candidate with an independent streak, ask questions about their priorities. Attorneys should believe in a client-focused approach to casework and show a strong commitment to client communication. Without those qualities, your new lawyers might ignore the needs of others when they don't align with their personal goals.
Consistent collaboration develops through transparent leadership. If you claim to embrace collaboration but don't reflect it in your actions, your attorneys will notice and assume they are free to do as they please. Speak openly about the firm's goals and expectations for its workers, then walk the walk to encourage other attorneys
to do the same.
Change takes time, but your new collaborative work environment will be worth the wait.