The clause would prevent passengers or their estates from suing in the case of a crash.
---
Congress is trying to stop Amtrak from implementing a forced arbitration clause that'd prevent passengers from suing the company in the case of injury or accident.
According to Roll Call, Rep. Daniel Lipinski (D-IL), chairman of the House Transportation and Infrastructure Subcommittee on Railroads, Pipelines and Hazardous Materials, is on a mission to counter Amtrak's new policy, which was approved January.
"Apparently, there is nothing anything to bar forced arbitration for an Amtrak passenger, so that is something we're not start to look at legislatively," Lipinski said, adding that House Transportation and Infrastructure Chairman Peter DeFazio (D-OR) is interested in the issue, too.
Lipinski, notes Roll Call, was keen to point out that other players in the transportation industry—including air carriers—are legally prohibited from coercing ordinary commercial passengers into arbitration agreements covering accidents, injury and death.
Sen. Richard Blumenthal, a Connecticut Democrat, has publicly interrogated what seems to be a glaring loophole in transportation law.
"There's no reason why consumer complaints about Amtrak should involve mandatory arbitration," he said. "Consumers might wish to have arbitration […] but they shouldn't be forced to."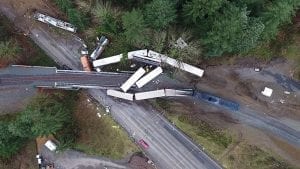 POLITICO suggests that Amtrak—a government-subsidized rail company—began taking steps to shield itself from liability following several disastrous crashes. In 2015, for instance, a Philadelphia derailment led to the deaths of eight passengers, with hundreds more injured. A subsequent lawsuit saw Amtrak ordered to pay $265 million to victims, their estates and relatives.
From January onward, Amtrak's started bundling arbitration clauses with ticket sales. Under the agreement, passengers cannot take claims against the company to a judge or jury without first undergoing internal mediation.
Consumer advocates, along with Congress, have criticized the change as patently hostile.
"It is one of the most anti-consumer and passenger clauses I've ever seen," Julia Duncan, senior director for government affairs at the American Association for Justice, told POLITICO.
Duncan argues that, under arbitration clauses, consumers and workers tend to fare "terribly on the whole […] because it doesn't have any of the protections that having access to public accountability through a judge or jury process would."
Duncan also says that arbitration tends to be more difficult for laypeople to access and navigate than the courts.
If anything, some members of Congress said that taking away the threat of litigation could lead to Amtrak relaxing its safety standards. Massachusetts Rep. Stephen F. Lynch (D) said arbitration creates a disincentive for rigorous self-regulation, "because it limits the rights of individual injured passengers or workers."
"To ride on Amtrak, you've got to accept mandatory arbitration," Lynch said. "They don't have a choice. You can't renegotiate what's on the back of the ticket."
Sources
Amtrak's new ticket rules won't let passengers sue in a crash
Congress pushing back on Amtrak forced arbitration policy