The suit mirrors another filed at the federal level.
---
Oregon's world-famous 'Climate Kids' argued their case against the state supreme court on Wednesday.
OregonLive.com reports that the Ollie Chernaik, 19, and Kelsey Juliana, 23, filed the case together in 2011, when both were still under-age. The suit names Oregon Gov. Kate Brown as a defendant, their complaint running parallel to a similar, better-known suit Juliana is running against the federal government.
According to OregonLive.com, Chernaik and Juliana's argument is underlaid by history—and lots of it. Centering on what's known as public trust doctrine—a notion dating back to the Byzantine Empire, which dissolved in the 15th century C.E.—the suit suggests that governments are legally obliged to protect resources which provide benefit to the public.
U.S. lawmakers copied Byzantine policy in the 1800s, with public trust doctrine withstanding numerous Supreme Court trials and verdicts over the course of the next century.
An attorney for Chernaik and Juliana—Courtney Johnson—told the state supreme court's seven-justice panel that that Oregon, too, has a responsibility to protect public lands and resources, including "the state's atmosphere as well as the water, land, fishery and wildlife resources from the impacts of climate change."
However, Chief Justice Martha Walters was quick to ask what—if anything—Oregon's already done to combat climate change.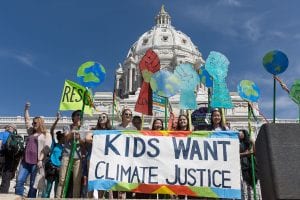 "Hasn't the state passed significant legislation to address the issue?" Walters asked.
Johnson that, despite some of Oregon's best attempts, all its measures are non-binding and not sufficient to curb the state's contribution to man-made climate change.
Meanwhile, OregonLive.com says that Carson Whitehead, an attorney representing the state, did little to oppose the Climate Kids' logic—he openly admitted that global warming is a serious issue, but said it's not one intended for the judiciary.
Whitehead, similar to some Justice Department attorneys defending the government at a federal level, said that climate change policy should be reworked and revised as needed by lawmakers.
"If your officials are not doing their duties, vote them out of office," he said. "We have processes for that."
Unfortunately, there doesn't seem to be any easy solution. OregonLive.com notes that the case has spent the better part of a decade working its way through the state court system, only just reaching the supreme court. The suit has been dismissed and revived numerous times, with other judges accepting the government's separation of powers argument.
"The plaintiffs are really asking a solitary judge in one of 36 counties to completely subvert the legislative process," said Lane County Circuit Court Judge Karsten Rasmussen in a 2012 ruling.
Despite facing continued obstacles, Juliana continued to petition the government, implying Brown herself to take on climate change.
"If Kate Brown is so concerned that 'kid should not have to fight this hard to protect the planet they will inherit,' why is she fighting us tooth and nail?" Juliana asked in an opinion piece published on Oregon Live and The Oregonian. "Why are her lawyers arguing against the fact that the state has a legal obligation to protect all of Oregon's essentially natural resources?"
Sources
'Climate change kids' bring state lawsuit to Oregon Supreme Court
High Court Hears 'Climate Change Kids' Lawsuit Arguments