A councilman is accused of robbery a drug store with the intentnion ot reselling addictive painkillers.
---
Pennsylvania councilman, Kirk Mullen, 34, wearing a ski mask stole $16,400 in prescription opioids from a drug store in the small town of 4,200 people which he serves, prosecutors said.  He intended to sell the addictive drugs.  Mullen, who has served on the borough council since early 2018, was charged with "robbery, theft, receiving stolen property, and possession and intent to distribute the opioids."  He has served on the borough council since January 2018.
Berks County District Attorney John T. Adams said Mullen robbed the West Reading Drug Store on February 19 just before 6:30 p.m., obtaining what he intended to sell.  When he was stopped, he did not have a weapon on him.
Mullen is accused of stealing nearly $16,400 worth of opioid pain medication to sell on the black market.  The pills were oxycodone with a street value of nearly $80 a pill.
Authorities searched the councilman's home following the incident and found several items he is alleged to have also stolen from the drug store.  Adams said one of the items found by authorities was a "pill bottle with specific markings that authorities traced back to the drug store."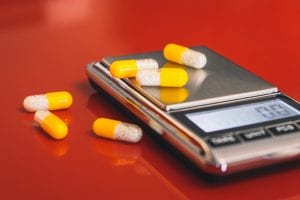 "I do not recall an individual in a position of something like a borough councilman being charged with a felony offense such as robbery," Adams said.
But many in positions of power have been accused of knowingly contributing to the crippling opioid epidemic, which makes pointing the finger at any one facet of the industry or one party difficult to do.
Intensive care doctor, William Husel, a physician working with Mount Carmel Hospital System in Ohio, allegedly ordered markedly high doses of pain medication prescriptions for his patients, leading to the deaths of at least twenty-eight people under his care.  The doctor has asked the state's medical board for a hearing before it decides whether to take further action against his now-suspended medical license.
Mount Carmel President and CEO, Ed Lamb, adding, at the time an investigation ensued, "We are sorry for this tragedy, and we will continue to investigate how we responded to this report and whether there is any other information that should have led us to investigate sooner into Dr. Husel's practices."
Registered nurse, Tyler Rudman, and pharmacist, Talon Schroyer, were named along with Husel in a civil lawsuit filed against the hospital.  It accuses the hospital, Husel, Schroyer, and Rudman of battery, medical negligence, negligence, wrongful death and in particular, Mount Carmel West, of negligence in its supervision of Husel.  And, approximately twenty hospital employees in total have been placed on paid leave as a result of the investigation.
The drug companies themselves are, of course, also on the forefront, with many being sued by multiple parties for supplying these addictive drugs.  A Massachusetts complaint made public in January against Purdue and eight members of the Sackler family, including Richard Sackler, alleges the family held a central role in developing the business strategy for OxyContin.  Documents revealed the doctor was directly intertwined with Purdue's efforts to market the drug and he pushed his team to pursue OxyContin's deregulation in Germany.
Finding out another individual in a position of power is part of the game is, unfortunately, not all that surprising.  It is until when Mullen is due to appear again in court.
Sources:
Pennsylvania councilman charged with stealing opioids
More Sackler Communications Revealed in Ongoing Litigation
Doctor Suspected of Causing More Than Two Dozen Patient Deaths