While the Office of Refugee Settlement claimed to review under-age teens' requests for abortion, it never approved a single one.
---
A U.S. appeals court has ruled against the Trump administration and its blanket-ban on abortion services for immigrant teens.
The 2-to-1 ruling, writes The Washington Post, called the government's stance on in-custody immigrant abortions an illegal and "across-the-board ban." Unless the case continues to escalate, the ruling means the Trump administration can no longer deny access to abortions to under-age teens in immigrant detention centers.
According to the Post, the case was filed by the American Civil Liberties Union on behalf of a 17-year old girl.
The girl, who'd come to the United States from a Central American country, was arrested and held in a Texas immigration center. While pregnant, the teen was denied an abortion due to a 2017 policy change by the Office of Refugee Resettlement. The directive, at odds with past guidance, prohibited staff from "facilitating" teen abortions.
The ORR's policy officially prevented the office from facilitating teen abortions by offering funding—whether for the procedure itself or transportation to obtain one. Furthermore, the court's ruling noted that the policy also required the ORR's director, E. Scott Lloyd, to review abortion requests.
But in Lloyd's entire tenure, he never approved a single request—including one from an under-age girl whose pregnancy was the result of rape.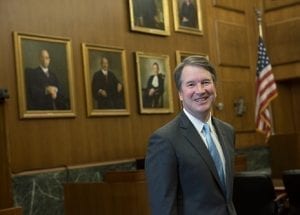 In another case, a teenager who'd secured outside funding to get an abortion was refused permission to leave a government-run migrant shelter, even though she'd also arranged private transportation.
"That is not a refusal to fund an abortion; it is a refusal to allow," wrote Judges Sri Srinivasan and Robert L. Wilkins in an unsigned opinion.
While the Justice Department purportedly refused comment to numerous media agencies, the American Civil Liberties Union celebrated the ruling as a massive win. ACLU attorney Brigitte Amiri, who served as head attorney for immigrant teens seeking abortions, said the ruling has left everyone "relieved."
"The Trump administration's cruel policy of blocking young immigrant women in federal custody from accessing abortion was a blatant abuse of power," Amiri said. "We are relieved that today's ruling continues to prevent the policy from taking effect while the case proceeds, and allows the case to proceed as a class action as we continue this fight."
The judges also cited Supreme Court precedent, suggesting that "the Constitution offers basic protection to a woman's right to choose," with the same principle applying as much to unaccompanied, undocumented minors as to citizens.
"It is a tremendous relief that the government will continue to be prohibited from blocking access to critical care for unaccompanied minors," Amiri added.
Sources
Trump administration cannot block abortions for immigrant teens in custody, court rules
The Trump Administration Can't Block Undocumented Teens From Getting Abortions, A Federal Appeals Court Ruled
U.S. court rules against Trump administration in immigrant teen abortion case