The Center of Public Integrity, citing government reports, finds that back-up cameras could've saved dozens of lives.
---
Government reports and independent investigations suggest that hundreds of miners have been killed in preventable accidents, many the result of companies' refusal to invest in inexpensive safety equipment.
The Center for Public Integrity—in a story written in collaboration with The Arizona Republic and USA Today—details the death of Thomas Benavidez.
The Oracle, Arizona mine worker was scheduled for work on Father's Day, back in 2010. His family didn't make plans, and Benavidez didn't make it home—his pick-up, parked in an open-pit copper mine, was run over by a 240-ton truck the size of a two-story house.
Benavidez, claims the Center for Public Integrity, is among hundreds who've been killed in similar such accidents. Some 500 individuals have been killed by heavy machinery in open-pit and underground mines since 2000.
Out of hundreds of deaths, dozens—like Benavidez's—occurred on account of the massive blind spots inherent to big-rig mining machines.
However, the U.S. Department of Labor's Mine Safety and Health Administration (MSHA) has long spearheaded a push to integrate more safety equipment in mines. A recent report issued by the MSHA found that at least 23 deaths could've been prevented if heavy machinery had been outfitted with proximity sensors and back-up cameras.
Davit McAteer, the MSHA chief under Bill Clinton, told Congress in 2007 that there's a disconnect between the cost of mine machinery and that of critically important safety devices.
"These large haulage trucks cost a fortune, but inexpensive camera systems which are currently available, are not required by MSHA," McAteer wrote. "In the late 90s, I initiated a voluntary program to encourage operators to install them, and sadly that program has languished in the last several years."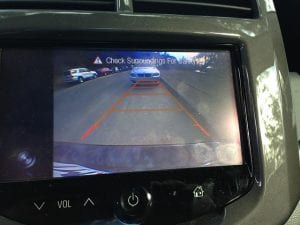 Cameras, writes the Center for Public Integrity, are the 'simplest fix.' But other solutions exist, too—they ranger from radar-triggered collision avoidance systems to GPS-based networks. Some safety tools can trigger an alarm or apply a vehicle's brakes if something unexpected gets too close.
While a big-rig hauler can cost up to $1 million, the CPI notes that retrofitting old units with advanced safety features is a comparably inexpensive endeavor: perhaps a few thousand dollars at most.
Levi Allen, international treasurer for the United Mine Workers of America, said a single piece of technology won't stop accidents.
But Allen, writes the CPI, is adamant in his call for action: the need to act "has been proven with bloodshed."
"The time for proximity detection systems is now," Allen and the UMWA wrote in support of a 2015 rule that would've mandated safety sensors and collision-avoidance equipment on underground-mine machinery. "The industry must embrace this new technology to eliminate pinning, crushing and striking injuries and fatalities."
Time and time again, mining interests have pushed back against reform. Between 2011 and 2015, the National Mining Associated repeatedly and effectively rallied against safety regulations.
"Rules can be stalled by virtue of anything," McAteer said. "The association's bread and butter is to stall. That is their whole reason for being."
Local state mining interests have also pushed back. The CPI shares excuses given by the Nevada Mining Association, which claims that proximity-detection systems aren't advanced enough to be worth an investment.
"Safety is the highest priority for the Nevada Mining Association and its members," association president Dana Bennett said in a statement. But Bennett continue to say there's little use in retrofitting equipment because "third-party aftermarket devices have often been found to be complex and have unintended consequences that pose potential risks."
The MSHA report cited by the Center for Public Integrity does acknowledge that, in some documented accidents, simply having cameras on trucks would've been inadequate to prevent death or serious injury—but more often than not, equipment, in conjunction with properly-implemented rules and safety policies, could've.
Sources
BLIND SPOT: MINERS DIED WHILE THEIR BOSSES REFUSED SAFETY EQUIPMENT
CWS Preventable Fatal Accident Analyses