Las Vegas prosecutors won't file charges against Ronaldo but a district court judge won't acquiesce to all his attorneys' requests.
---
A district court judge turned down a filing from soccer superstar Cristiano Ronaldo, whose lawyers hope to suppress a lawsuit accusing the athlete of rape.
The Associated Press reports that the 'partially blacked-out pleadings,' submitted Tuesday, revealed no new information about the case or Ronaldo's accuser, Kathryn Mayorga. Attorneys for Ronaldo also declined the chance to comment, at least to the A.P.
The suit, filed in June, claims that Ronaldo or his associates made public information about an alleged $375,000 "hush money" settlement to Mayorga.
Ronaldo, for his part, says he did have consensual sex with Mayorga in a Las Vegas hotel room in 2009.
Mayorga had previously reported a sexual assault but refused to name the assailant—she only went so far as to say he was a European soccer player. While officers tried to collect evidence, they weren't able to conduct a "meaningful investigation" due to Mayorga's unwillingness to divulge any information beyond claiming she'd been raped.
Detectives were therefore "unable to search for and impound vital forensic evidence." A video showing Mayorga and Ronaldo together also went missing or otherwise got lost.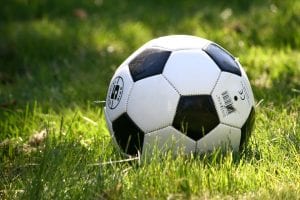 According to Mayorga, Ronaldo used "fixers" and associates to stop her from lodging a criminal complaint. As part of a deal between the two, Ronaldo agreed to a confidential $375,000 settlement—a payment neither the footballer nor his attorneys have denied.
However, Mayorga's attorneys fed officers Ronaldo's name in June 2018, causing the case to be reopened.
The accusations prompted some controversy, especially among Ronaldo's admirers. That didn't deter Vegas investigators from pressing forward. But in July, the Clark County District Attorney's Office announced it wouldn't file any criminal charges against the soccer star.
"Based upon a review of the information presented at this time, the allegations of sexual assault against Cristiano Ronaldo cannot be proven beyond a reasonable doubt," prosecutors said in a statement. "Therefore, no charges will be forthcoming."
Since the accusations first surfaced, Ronaldo has vehemently denied them.
"I firmly deny the accusations being issued against me," he said in October 2018. "Rape is an abominable crime that goes against everything that I am and believe in. Keen as I may be to clear my name, I refuse to feed the media spectacle created by people seeking to promote themselves at my expense. My clear conscious [sic] will thereby allow me to await with tranquility the results of any and all investigations."
This week's ruling upholds Ronaldo's claims that the details of the 2010 settlement with Mayorga are confidential and shouldn't be disclosed to the public—however, the court found his argument to keep them secret so as not to encourage "scandal" or endanger his endorsement deals lacking merit.
Sources
Cristiano Ronaldo To Not Face Rape Charges In US
Cristiano Ronaldo will not face criminal charges over rape allegations